The event takes place on the 1st of December starting at 22:00.
1st of December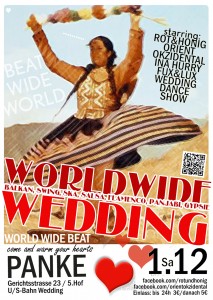 Rot&Honig and Orient Okzidental are gonna make you dance! They serve you a handpicked menu of delicious intercultural music, like Balkan, Ska, Panjabi, Salsa, Klezmer, Gypsi Brass or Cumbia within a surprising Mix of Styles, like Drum´n´Bass, Dub Step, Electronic Quarters or melodic plain folkore music. You will experience a quick moving change of Variations which won´t ever get boring and keeps you warm, all night long. All that for the soul of music. Ina Hurry will take good care of visuals and we also
will surprise you with an special contact-dance-performance at midnight. Entrance-fee will be 3€ before midnight and 5€ afterwards..Wanna check music? Go to:
http://soundcloud.com/rot-3
See you in the Panke.
We are really excited!
Warm your hearts with World Wide Beats!