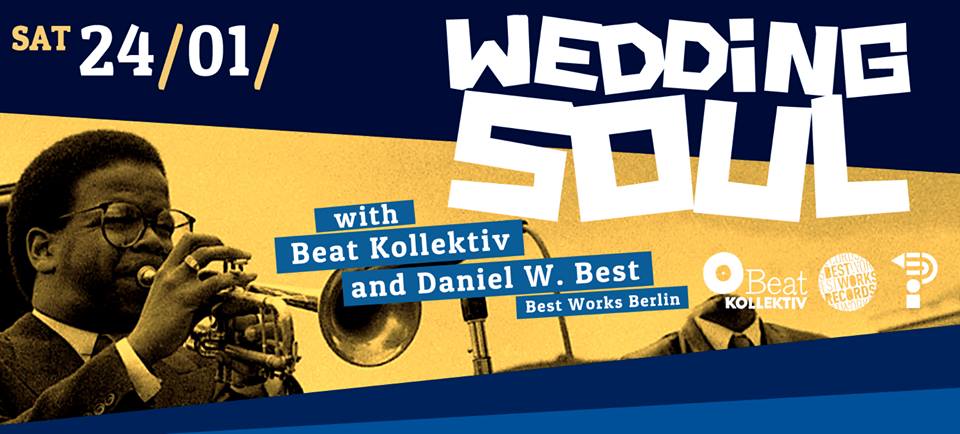 Hello!!
** deutsch unten **
Guess what: we're back! It's a new year and a new funky fresh Wedding Soul. This time we have a very special guest, the one and only, a Berlin living legend, ladies and gentlemen, make some noise for
Daniel W. Best (Best Works Berlin)
At a time when DJing is less about connecting with music lovers and more about branding, play counts and frequent flyer miles, Daniel W. Best's approach is so straightforward that it's almost groundbreaking: an egoless passion, a fine-tuned ear and most important, an open mind with good taste. Although he prefers to call himself a music activist rather than a DJ, Best has over two decades of experience behind the decks, getting crowds onto their feet whether he plays Jazz, Soul, Reggae, Rare Groove, Disco or House – sometimes all within the same set, always on vinyl.
Rooted in Berlin for over 15 years, he has established residencies at Cookies and Tausend and organizes a variety of special parties and one-off events. But his DJing is only one aspect of his musical credibility: he runs his own company Best Works, which serves as a powerhouse for booking, artist and event management and publishing, representing an array of talent including Jazzanova Live feat. Paul Randolph, Mop Mop, Nôze & Band, Samúel Jón Samúelsson Big Band, Fetsum, William Adamson, Kyodai, André Lodemann, Vidis, Clé, Christian Prommer, Alex Barck among many others. Bringing professionalism to partying, Best is responsible for some of Berlin's most successful events, including Kaleideskop, which pairs Jazzanova's DJ team with top names from around the world such as Masters at Work, Carl Craig and Metro Area, as well as Dixon's now defunct club night Innercity held at Weekend, and the oldschool House party Washing Machine which has been running in Berlin for over 10 years at different clubs and which finally arrived at Kater Holzig and Panorama Bar.
—
Hej Leuts!
Ratet mal was los ist: Wir sind wieder da! Ein neues Jahr und ein neues funkig frisches Wedding Soul. Dieses Mal haben wir einen ganz besonderen Gast, der einzigartige, eine lebende Berliner Legende, meine Damen und Herren, werfen sie ihre Hände gen Himmel, macht ordentlich Lärm für
Daniel W. Best (Best Works Berlin)
Daniel W. Best kam nach seinem Studium der Kulturwissenschaften in Frankfurt/Oder Mitte der 90er Jahre nach Berlin, wo er sich schnell als DJ sowie Party- und Konzertveranstalter etablierte und zu einer der treibenden Kräfte des Labels Sonarkollektiv wurde. Seine Agentur Best Works ist in den Feldern Booking, Artist & Event Management und Publishing tätig und gehört seit über 15 Jahren zum festen Bestandteil der Berliner Club und Event Kultur.
www.best-works.com
www.facebook.com/bestworks
www.facebook.com/bestworksrecords
http://soundcloud.com/bestworks
—
At WEDDING SOUL we play RnB, Raw Funk, Breakbeats, HipHop, Soul, sometimes even Discobeats, all together a merry-go-round of soulfull
music we love!
—
Panke is a bit tricky to find, this might help…
text: http://www.pankeculture.com/how-to-find-us/
video: http://vimeo.com/40098747