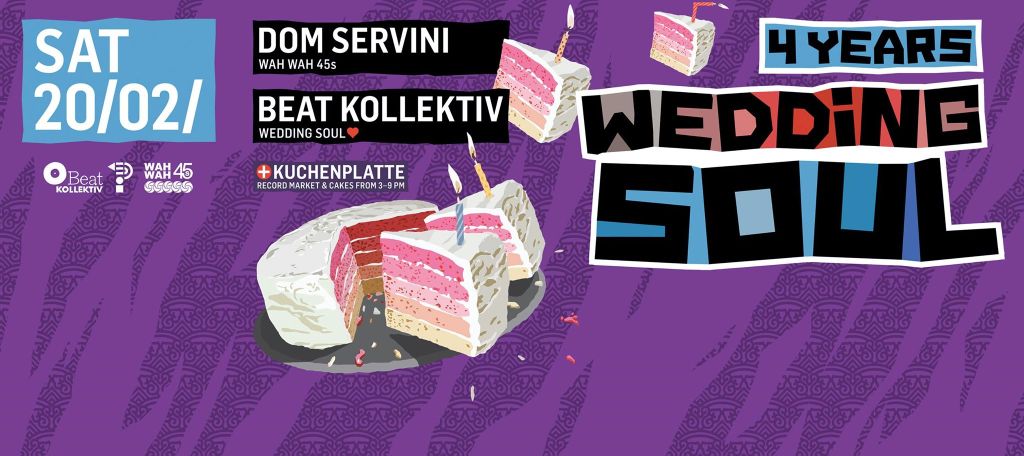 Hej ladies and gents! Let's come together and celebrate this month FOUR YEARS of WEDDING SOUL!!
We are super happy, looking back, being proud and looking forward what will come next. What we can make happen for you to have a wonderful night. Thanks for your support!!
This month we have whole day program for you: First in the afternoon KUCHENPLATTE is back again. After a great start on our weekender in October the team around Kuchenplatte is bringing you once more the best records, the best clothes and the finest atmosphere for diggin', listening to music and hanging out with new and old friends. Fresh food and funky music is served throughout the event.
KUCHENPLATTE X 4YRS WEDDING SOUL edition – The Original Vinylover Market – 3-9 PM
https://www.facebook.com/events/1190466927635024/
Later after a short break we'll be back with our legendary WEDDING SOUL birthday party, featuring this time all Wedding Soul residents SOULIX, MARKUS TONE, MARIAN TONE, MIKO, LUCKY LOOP and SELFMADE side by side with one and only DOM SERVINI (WAH WAH 45s) coming from London exclusively tonight for this one show!
4 YRS WEDDING SOUL X DOM SERVINI X BEAT KOLLEKTIV – 22PM-
—
At WEDDING SOUL we play RnB, Raw Funk, Breakbeats, HipHop, Soul, sometimes even Discobeats, all together a merry-go-round of soulfull
music we love!