26th of January
Scope is a meeting point for the creative and the curious, a platform for sharing and learning in an informal setting. Each session offers a variety of topics and approaches; Scope is about exposure, not for the artist, but for the audience. http://scopesessions.org/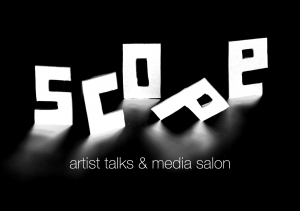 For the Transmediale Vorspiel at Panke, Scope will present two punky audiovisual artist collectives with Polish roots, IM2 (Warsaw) and Pussykrew (Berlin) will present their work in talks and audiovisual performances.
AUDIOVISUAL PERFORMANCES
IM2 (Monika Czajkowska & Tomasz Pągowski) 22:00 Uhr / 10pm
Warsaw duo IM2 (I'm too) describe themselves as m u l t i m e d i a h e r m a p h r o d i t e. The top achievement of moony & mr.i in partnership of both sexes. Music and Image, Him and Her, Yin and Yang – like complementary forces in the area of multimedia.
Their performances are eclectic electronical shows, filled with expressive movement, charisma and spontaneous vocals. accumulated with colorful, live-mixed visuals. On stage, there is no denying of their temperaments, they love to attract attention and to dive into audience's excitement.
http://im2.mobi
https://www.facebook.com/IM2pl
pani K – invisible/inaudible
alexander holm – ritual tricks w/ kiritan flux
djs:
mr.i ( IM2 )
DJ Spock ( Beat Kollektiv )
Iman Deeper ( VisualBerlin )
open vj stage: VisualBerlin & friends
video installations:
ilan katin does tagtool
eklis rellüm – untitled in glitches
kiritan flux – shechina ex machina
lucy benson (MFO) – cuando la justicia
This event is part of the Vorspiel
transmediale™ festival for art and digital culture berlin
http://www.transmediale.de/resource/p2p-vorspiel