The event takes place on the 16th of April starting at 19:00.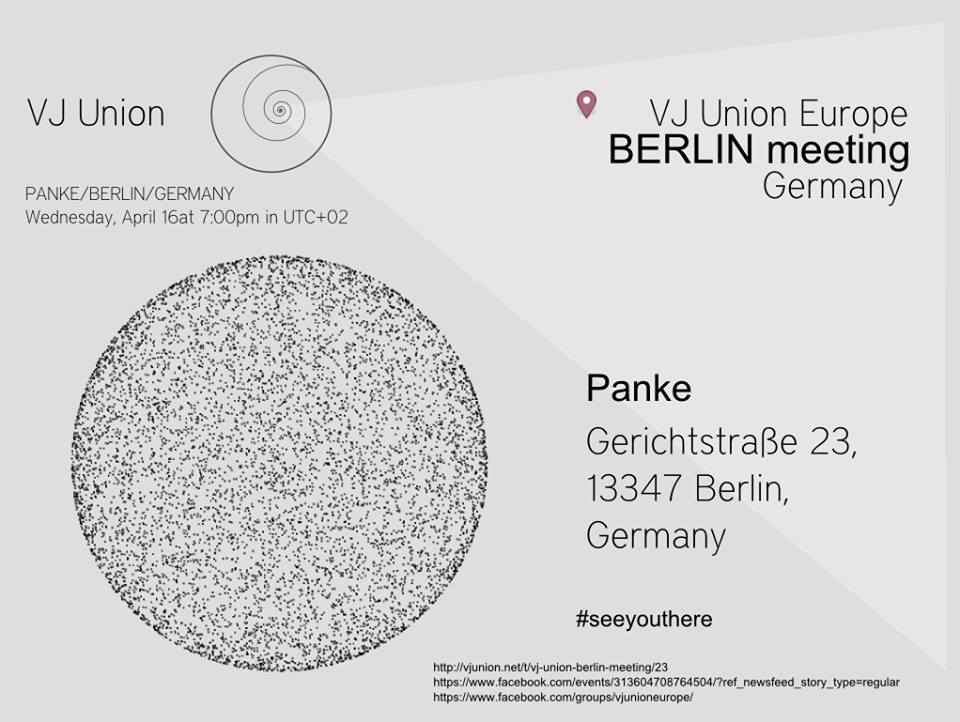 VJ Union: Berlin Meeting
(VJ Union Europe)
Wednesday, April 16, 19:00 UTC+02
First community meeting for VJ Union in Europe, is the launch of "VJ Union: BERLIN meeting" where you all invited to meet and create in the freeform & open visual jam session environment. Such a perfect VJ playground, isn't it?
To make it sparkle, performances are mostly encouraged, so feel free to let us know how many projectors you want to bring or if you instead like to showcase some vvvv patch or be super useful solving touch designer questions for everyone or tweaking quartz composer over a beer through entire night… We already love and want to meet you, so come over!
Please don't be shy to discuss anything that's on your mind- tools/ software or cool art you seen and how to create it…. And of course, if you get stuck, we have a Global Community ready to answer your questions.. we'll be looking forward to it too>
Streaming volunteering #yes #pleasesmile
Any questions or proposals? Kimberley (Disaster Girl) has taken on a role of organising BERLIN event and full love as support from VJ Union Global …
Contact: kimberley.bianca@gmail.com
For any VJ Union questions: vdmokstati@gmail.com
EVENT:
https://www.facebook.com/events/313604708764504/