The event takes place on the 15th of May starting at 22:00.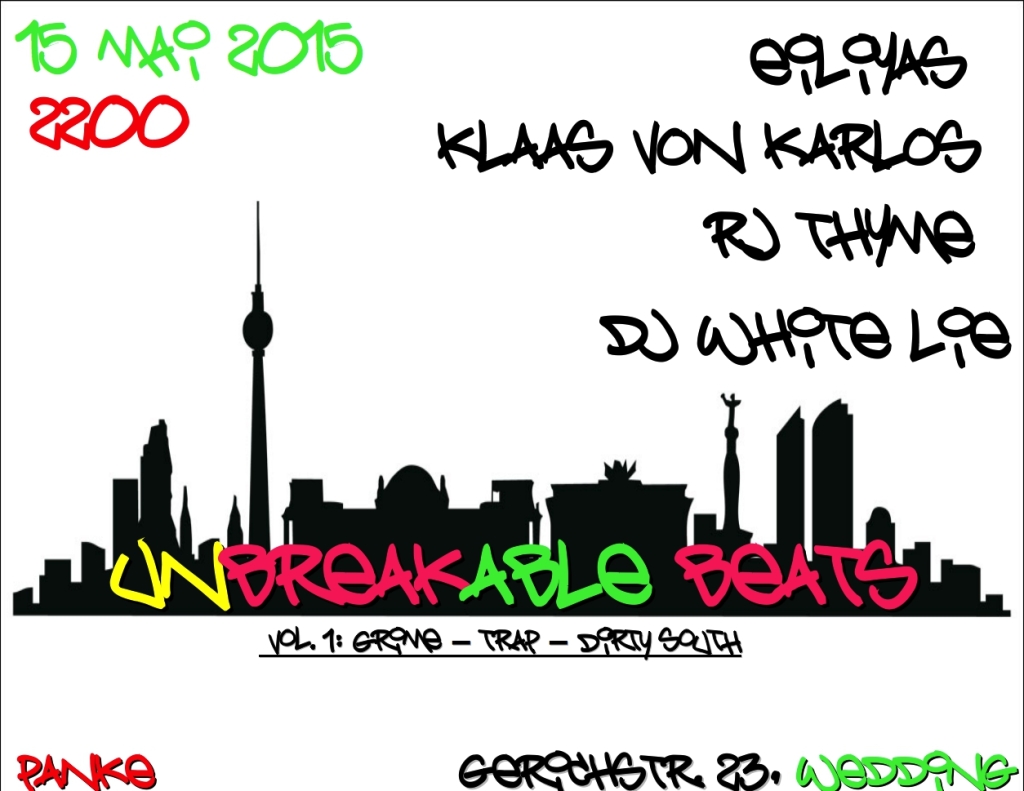 UNBREAKABLE BEATS – A beats & bass-driven series exploring hip-hop diversity through the culture's genres and sub-genres.
This first edition features G-FUNK, GRIME, TRAP, and DIRTY SOUTH with an international horde of DJ's to keep the beats (dis)respectfully hard.
\\Lineup//
EILIYAS
https://eiliyas.bandcamp.com/
https://soundcloud.com/eiliyas
https://soundcloud.com/berlincommunityradio/mixtape-menage-19
KLAAS VON KARLOS
https://www.mixcloud.com/klaasvonkarlos/trap-doorcellar-door-jackal-mix/
https://divanrouge.bandcamp.com/
www.reverse-bullets.com
RJ THYME
https://www.mixcloud.com/RJThyme/
https://rjthyme.bandcamp.com/
https://soundcloud.com/rjthyme
DJ WHITE LIE
aka Whitest Female Hiphop DJ Alive
http://open.spotify.com/user/eelliie/playlist/2h7e3SzyfOOYNd56wYJNYd
Eintritt: 3€ before Midnight / 5€ after