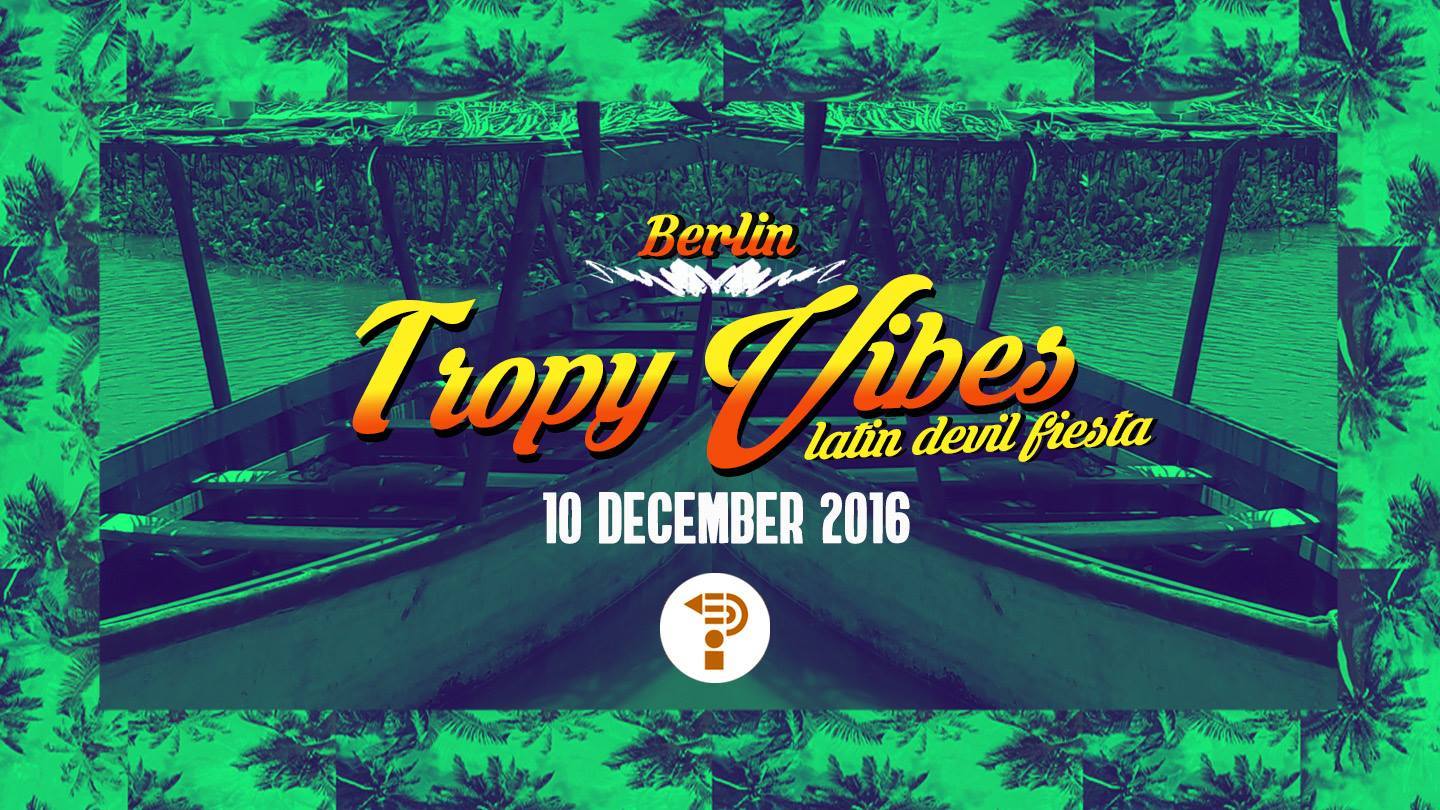 SATURDAY // SÁBADO · 10 DEC 2016 · 22:30 h
PANKE.CLUB GERiCHTSTR. 23 BERLIN WEDDiNG
http://www.pankeculture.com/how-to-find-us/
TROPY ViBES is a party where Berlin and latin culture come together listening and dancing to cumbia, latin beats, electro cumbia, tropikal bass, mash-ups and latin all kind of latin fusion, this time with a special drop of latin reggae.
Tropy Vibes presents one of the most representative artists of the Spanish reggae scene, HERMANO L from the Balearic Islands.
http://www.elhermanoele.com/
Before starting his solo career the Spanish MC has been performing on stage for many years as a part of the mythical ragga-hiphop band La Puta Opepé starting in 1993, a pioneer band in both styles wich recorded many albums and made several tours.
Come and dance, meet friends, share good vibes!
The party takes place at PANKE, a very special and inspiring backyard location in the upcoming Berlin district of Wedding, where artists of different genres and cultures come together.
✪ ✪ ✪ ✪ ✪ ✪ ✪
TROPY ViBES es la fiesta en Berlin con sabor a ritmo latino donde puedes bailar con la cumbia, latin beats, electrocumbia, tropikal bass, mash-ups y fusión latina. Esta noche de fiesta la aderezamos con una pizca especial de reggae latino.
Tropy Vibes presenta a uno de los artistas clásicos de la escena de reggae de España, HERMANO L de las Islas Baleares.
Antes de empezar a trabajar en solitario el MC español llevaba ya muchos años en los escenarios, iniciando su carrera profesional con la mítica formación de hiphop-ragga La Puta Opepé en el año de 1993. Banda pionera en su estilo, con la que grabó varios álbumes y realizó diversas giras.
Ven y disfruta del baile con nosotros, buena onda y buenos amigos!
✪ ✪ ✪ ✪ ✪ ✪ ✪
LiNE UP
✪ HERMANO L & WISDOM SOUND // Spain
✪ SELEKTOR BONY // Mexico-Berlin [Tropy Vibes Berlin]
✪ PAPO YOPLACK // Peru-Berlin [Psychedelic Cumbia]