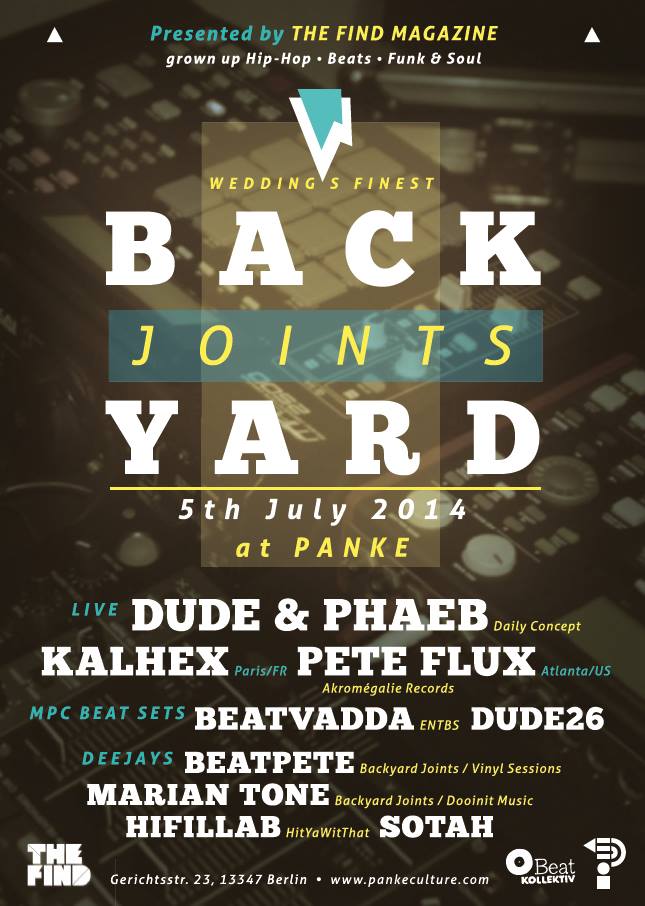 The Find Magazine is stoked to officially present the summer edition of Backyard Joints in Berlin on July 5th.
Live on stage: hip hop crew KALHEX from Paris, emcee Pete Flux from the USA, and German emcee/producer duo Dude&Phaeb, MPC beat sets by Beatvadda (Entbs) and Dude26 (Daily Concept), and DJ sets by the Backyard Joints/HitYaWitThat familia.
Backyard Joints is dedicated to the best in grown up Hip Hop, Beats, Funk & Soul. Creating a soundscape that makes your head nod and your feet itch. Each month founders Marian Tone and BeatPete bring you their highly contagious 'dope on plastic', with Panke (Berlin, Germany) as their home base.
Come celebrate the beauty of hip hop with us and your friends on a warm summer night.
>> Line up <<
LIVE:
– Kalhex (Paris / FR)
www.soundcloud.com/kalhex
– Pete Flux (Atlanta / USA)
www.soundcloud.com/pete_flux
– Dude&Phaeb (Leipzig / DE)
www.facebook.com/dudeundphaeb
MPC BEAT SETS:
– Beatvadda (Entbs)
www.soundcloud.com/beatvadda
– Dude26 (DAILY CONCEPT | www.daily-concept.net)
www.soundcloud.com/dude26
DJ'S:
– BeatPete (Backyard Joints / Vinyl Session)
www.youtube.com/user/beatpetemixtapes
– Marian Tone (Backyard Joints / Dooinit Music)
www.mariantone.bandcamp.com
– Sotah
www.soundcloud.com/sotah
– HiFilLab
www.soundcloud.com/hifillab
START: The event starts at 22.00h. From the afternoon on you're welcome in Panke's backyard for music, drinks, food, sun, and pre-party good vibes.
More info:
www.BackyardJoints.blogspot.de
www.TheFindMag.com