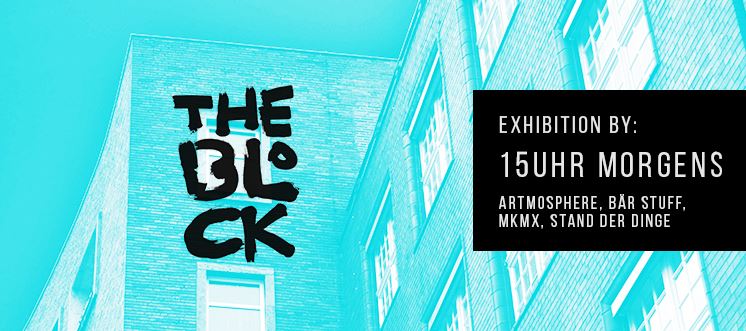 1 Mai Reinfeierei mit genreübergreifendem #TurnUp aus heavy Funk, groovy Bass, dirty Breakz & headnod HipHop + LiveKapelle und Augenzucker for the ones who know.
Für alle, die den kreuzbergerischen Suff- & Steinwurftrubel entgehen möchten, öffnen wir am letzten Apriltag die Tore zum BLOCK und freuen uns auf ein betörendes G(h)etToGether von Kreativlingen und Musikanten in WildWeddings explizitestem Tanzschuppen…
♛ Gruppenausstellung "15Uhr morgens" ♛ / ab achte
mit Stand der Dinge, BÄR Stuff, Artmospher, MKMX
♛ LiveMusic "Superstitious" ♛ / so ab gegen elf

♛ Party ♛ / danach
– Grandmoflash ( Super Komitee / HipHop Wohnzimmer)
https://soundcloud.com/grandmoflash
– alekkz / The BLOCK – Berlin
https://soundcloud.com/alekkz
– WhySoSerious / Bassment Rockers / Rostock
https://soundcloud.com/leiurus
– MoonWalka / Heavy Sessions & The BLOCK – Berlin
https://soundcloud.com/moonwalka
So grab your Tanzschuh, some Holz für die Feuertonne & deine Gang und kommt in den BLOCK zum Kucken, Tanzen, Trinken & Quatschen. Wir freuen uns derbe auf euch alle!
Was so geht im BLOCK: http://theblock.berlin/
Die Panke findet sich im fünften Hinterhof der Gerichtstraße 23 nahe S-Bahnhof Wedding. Wir schildern bestmöglich aus.
engl. description
hyper amazing mega killa rave + exhibition for the ones who know. we deliver funky & heavy ghetto music by international & berlin based artists..