For SCOPE's may edition, we put a spotlight to the upcoming 13th edition of
Live Performers Meeting in Rome, happening 23rd to 26th of may 2013.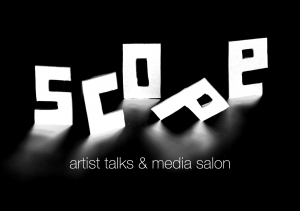 We will talk about our own experiences there, why the meeting is important for Europe's visual arts scene, and we are very happy to announce 2 visual performers/collectives that will give us a preview of brand new audiovisual performances recieving its premiere at this years LPM!
May 9th, 8pm, Panke Berlin.
Save the date!
Tokyo Data Collective – 20:00
Tokyo Data is a creative collective who understands its mission to engage emerging contemporary New Media artists and initiate transdisciplinary work between the universes of video art, acoustic architecture, performing arts, motion, interactive design, photography and graphic arts.
Their performance De Koog is a multi-media exploration that fuses together electronics and acoustics, light and sound, man and machine. It can be watched, touched, played, heard and experienced both as performer or audience. Its eyes and ears take in data from the surroundings and it responds to these stimuli with jittering visuals, harsh synthesis and animal screams. DeKoog involves Alexandre Maurer (Berlin/DE), Alexandre Gaeng (Zürich/CH) and Sam Andreae (Manchester/UK).
Visit Tokyo Data Collective on their LPM network profile:
http://flxer.net/tokyodatacollective
A-LI-CE – 21:00
A-li-ce, based in Paris, works as video designer, live performer and VJ since 2004 around Europe. She uses a bunch of techniques from paper, animation and video, bridging the gap from hyperrealities "wonderland" to sophisticated, dark visual worlds.
Her work deals with identity, humor, and acidity. She presented her work at audiovisual festivals like Mapping (Ch), LPM (It), Visual Berlin Festival (De), and Vision'R (Fr), including VJ solos and collective projects with 'Homemade Collective' and the duo ':NÄ:'. Her music videos and short animation movies have been screened in festivals as the International Animation Film Festivals of Moscow ( 2011) and Stuttgart (official music video selection, 2011), Cinemabrut (2010) and many more.
For this years LPM edition, she will premiere the Piece «Parade: Ouverture», which is the first act of the "Parade A/V live performance project", inspired freely on "The Atrocity Exhibition" of the writer J.G. Ballard. In collaboration with the sound artist Swub, it deals with spam messages, white lights, birds, electricity, schizophrenia, and Abba music.
Visit A-LI-CE on her LPM network profile: http://flxer.net/a-li-ce