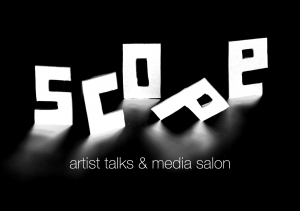 HGB Leipzig Special Session
This time we will host a special night where all talks are done by students and artists of the media arts department of the Hochschule für Grafik und Buchkunst (Academy of Visual Arts) Leipzig
Max Schneider – 9 Evenings Reconsidered: The 10th Evening – 20:00
Emerging from a career as a composer and producer for music labels like Compost Records in the mid nineties Max Schneider started working as a sound designer for media artists by the likes of Candice Breitz and Bjørn Melhus. He studied Sound Studies at the University of Arts in Berlin and since 2008 he is head of the sound art department, enclosed in the audio visual lab at the Academy of Visual Arts in Leipzig and a fellow researcher associated with the Sound Studies Lab at the Institute for Cultural History and Theory at Humboldt University in Berlin since 2012. In broader scope his theoretical and practical work as an artist, researcher and teacher revolves around sound and its connections into the arts, design and sciences.
The talk will focus on a student project cooperation between the Academy of Visual Arts and the Academy for Music and Theatre in Leipzig conducted in 2011/12. The project "9 Evenings reconsidered: The 10th Evening" is based upon the milestone media arts event "9 Evenings" (1966 New York). Over the period of one year a mixed group of students worked theoretically and practically on this topic and presented the results in form of performances and an exhibition. The presentation serves as an example for a project based curriculum at the Audio Visual Lab at the Academy of Visual Arts in Leipzig. The usage of media and technology in the production of art/performance/theatre/music…, interdisciplinary art practice and project based work strategies as a curriculum in the art academy are some of the points of interest in the following Q&A and/or round table.
Jakob Wierzba – Hacky Live Video 3Dification – 21:00
Jakob Wierzba explores the relationship between technical images, the apparatus, the viewer and reality through interactive video installations and pretty straightforward urban photography. After programming through his youth, he dabbled in computer sciences, moved to photography, and is currently studying media art.
He will talk about works that deal with the transformation of 2D video into a 3D representation by hacking a set of common tools whilst avoiding frameworks, and how this can help to get the viewer to "feel the algorithm".
Tech meat: C, OpenGL, MIDI glued together by PHP and fueled by UNIX and DIY philosophy.
Melody Panosian – From bad to worse. Ruby-I in talk with Swimsuit Tissue. – 22:00
Melody Panosian, born in Uppsala (Sweden) in 1982. Immigrant working in versatile ways and circumstances. Started making electronic music and riot samba before studying choreography and animation studies (GDU Gotland, School of New Dance Amsterdam). She also joined the program of Medienkunst in Hochschule für Grafik und Buchkunst in Leipzig. Melody showed her work in Berlin at Künstlerhaus Bethanien, KuLe Theater and Ausland. She performed extensively: Frascati Theatre (Amsterdam), Kulturhuset (Stockholm), Kunstverein (Leipzig), Offkonsten!/Teatergalleriet (Uppsala) and Galerie für Zeitgenössische Kunst (Leipzig). Currently lives in Leipzig.
At Scope Sessions – artist talks & media salon, Ruby-I and the traveller Swimsuit Tissue have a talk about Swimsuits alter ego Leni Riefenstahl.
Ruby-I is a archetypical female Cyborg – partly human and partly automata. Ruby-I is like a talk show host, however, in an opposite manner. Because she is like a clown, she forces people to answer questions in honest but creative and productive way. The talk evolves around Swimsuit Tissues art practice and main focus will be faulty machinery.
www.scopesession.org