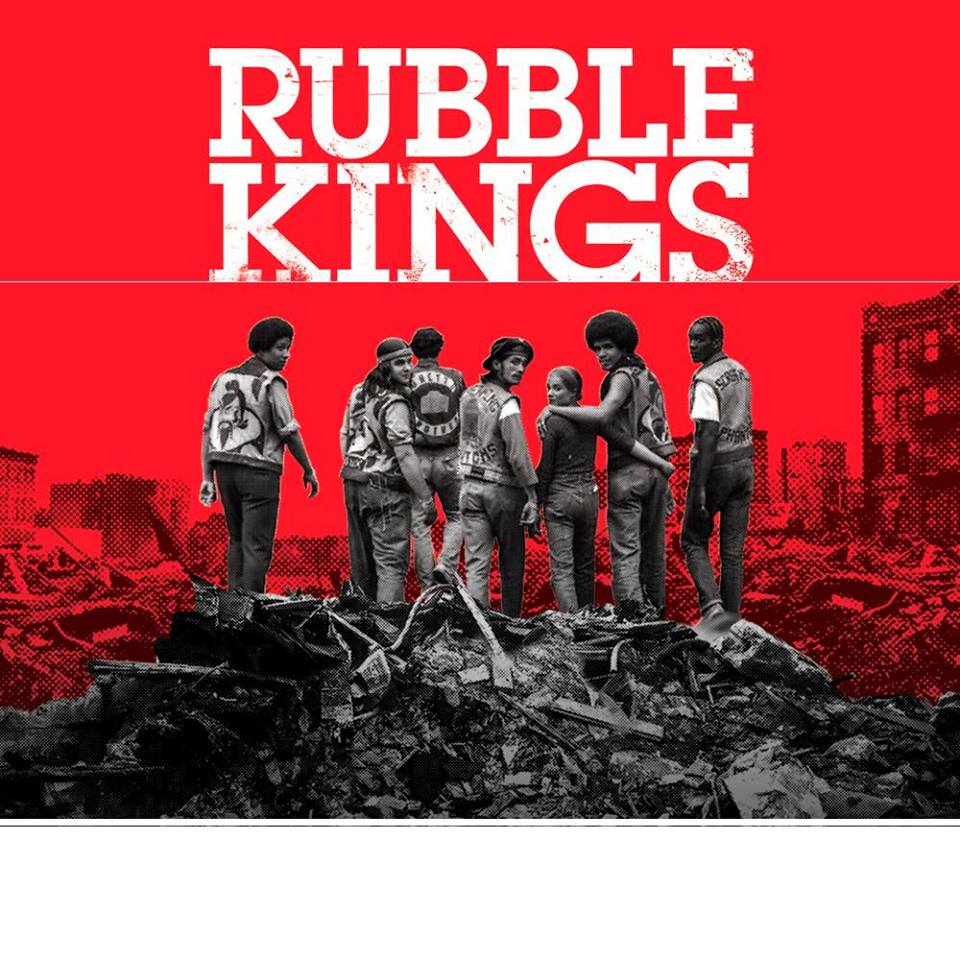 "Rubble Kings"
Die Dokumentation "Rubble Kings" erzählt die Geschichte von ein paar außergewöhnlichen, vergessenen, jungen Menschen, die Unmögliches wahr gemacht haben, indem sie durch ihre Handlungen nicht nur das Leben in der Stadt beeinflussten, sondern auch den Boden bereiteten für etwas, was später als Hip-Hop Kultur die Welt im Sturm erobern sollte.
"The Worriors" war Fiktion. "Rubble Kings" hingegen bietet einen echten Eindruck von den Zuständen New Yorks der 70iger Jahre.
DJs:
Little Shalimar (Rubble Kings/ Run The Jewels), LeBob (BeatGeeks)
Film:
"Rubble Kings"

Damage:
5€
Soundtrack TRACKLIST:
01. War – Little Shalimar
02. Savage Habits – Bun B, Killer Mike & Cuz Lightyear
03. Warrior Thing – eXquire
04. Bouncy 3 – King Mono
05. The Revolution Might Be Televised – Little Shalimar
06. Delaney Card – Ka
07. Edge of the Edge (Instrumental) – Little Shalimar
08. Rubble Kings Theme (Dynamite) – Run The Jewels
09. Partytime (Jitter Buggin) – Little Shalimar
10. Comes With The Territory – Little Shalimar
11. Same Damn Thang – Ghostface Killah, Boldy James & eXquire
12. The Piano District (Gentrification Boogie) – Little Shalimar
13. Phoenix – Roxiny & Tunde Adebimpe
STATEMENT – Little Shalimar über die Produktion des Soundtracks und der Filmmusik
Scoring the film, Rubble Kings was a total pleasure. It was the first time I ever set out to make period music. Most of my influences are 60s and 70s funk and soul, but usually when I set out to make new music I want it to be just that, new. This score gave me the opportunity to make old sounding stuff which was a blast. Half of the music on this album was taken directly from the score. For the new tunes I sampled joints from the score and made new beats out of them. The messages of hope and self determination from the film are so applicable to modern times that we felt it was really important to include rappers and singers that young people check today. Our hope is that kids who may have otherwise missed the movie will pick up on it by checking out this album. I'm in the fortunate position to work with a bunch of really great artists on a regular basis. I called on my friends and their friends to contribute vocals as project. I couldn't be more pleased with how it turned out. El-P, Killer Mike, eXquire, Cuz, Ka, Roxiny, Tunde Adebimpe, Boldy James, and Ghostface all delivered beautiful work that will hopefully help spread the word about this awesome film.