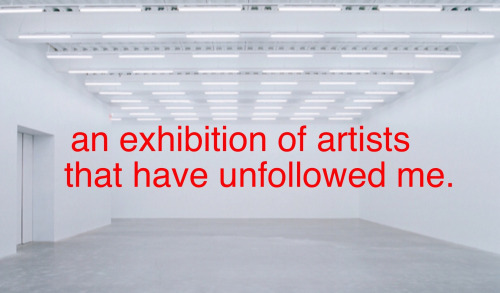 An Exhibition Of Artists That Have Unfollowed Me
Context
An Exhibition Of Artists That Have Unfollowed Me is an exhibition of artists that for some reason or another have unfollowed me on social media. I'm not sure why I retain this information; maybe in order to create this exhibition.
curated byMatthew Britton
opening:29 Oct 2016 20:00
opening times:20 Oct 2016 to 23 Nov 2016
location:52,5449816, 13,3742252
date:2016
ABOUT router.gallery
The router is used as an autonomous gallery space to show digital artworks. Artworks are distributed by the router through its local network with NO Internet connection; all exhibitions are accessible at the local site only. Curators present artworks on a small web server included on the router, with access granted through an open WLAN (Wireless Local Area Network) over WIFI. The format brings both the intimate character of Net-Art-Activities back to a site-specific relation and opens up new possibilities for a discursive reception in a public situation. The router-gallery-space program for exhibitions installed atpanke.club in Wedding, Berlin, is presented here, along with event details and information about the artists and curators. The router.gallery is an independent satellite of panke.gallery and features exhibitions by guest curators on a monthly basis.