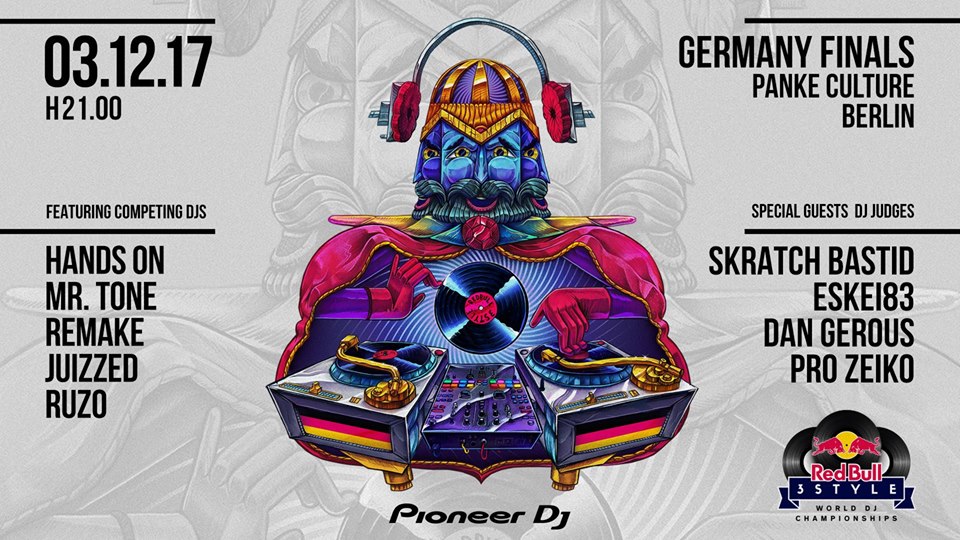 RED BULL 3STYLE GERMANY FINALS
15 minutes ⚡ 3 styles of music ⚡ 1 Germany Champion
The Red Bull 3Style DJ competition is coming to Berlin, Germany where 5 participants will get 15 minutes to show their skills and versatility to spin the best tracks and rock the crowd.
The winner will represent Germany at the Red Bull 3Style World Finals in Krakow, Poland with DJs from 21 other countries!
⚡⚡⚡⚡⚡⚡⚡⚡⚡⚡⚡⚡⚡⚡⚡⚡⚡⚡⚡⚡⚡⚡⚡⚡⚡⚡⚡⚡⚡⚡⚡⚡⚡⚡⚡⚡⚡⚡⚡⚡⚡⚡⚡⚡⚡⚡⚡⚡⚡⚡⚡⚡⚡⚡⚡⚡⚡⚡⚡⚡⚡⚡⚡⚡⚡
15 Minuten ⚡ 3 Musikstile ⚡ 1 Germany Champion

Die Red Bull 3 Style DJ Competion kommt nach Berlin, Deutschland, wo 5 Teilnehmer jeweils 15 Minuten bekommen um ihre Skills und Vielfältigkeit zu zeigen und die besten Tracks auflegen um die Crowd zu rocken.
Der Gewinner vertritt Deutschland bei den Red Bull 3 Style Weltmeisterschaften in Krakau, Polen, mit DJ´s aus 21 Ländern!
Your Competitors:
Mr. Tone
DJ Remake
DJ Hands On
Juizzed
DJ Ruzo
Special Guest Judges:
Skratch Bastid
ESKEI83
Dan Gerous
Pro Zeiko
Sunday, December 3, 2017
Pankeculture
Gerichtstrasse 23, Hof V, 13347 Berlin
19+