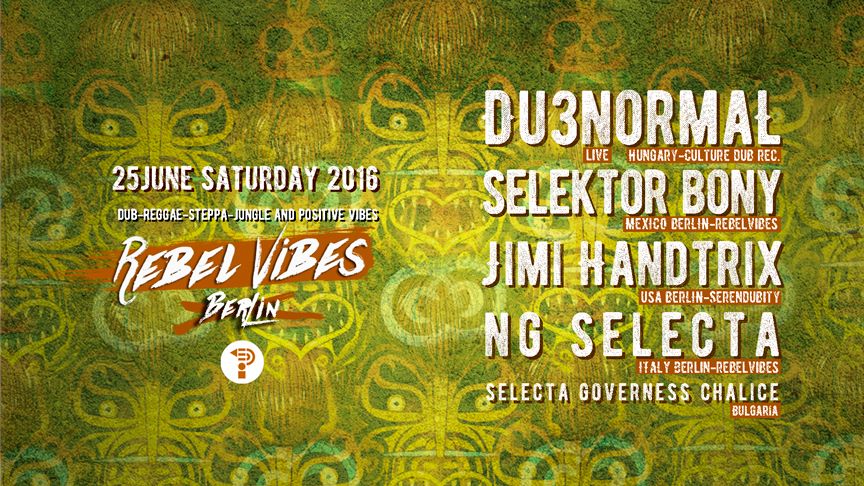 REBELVIBES at PANKE Club, Berlin, Wedding on Saturday 25th of June 2016 is again a musical and cultural melting pot: A mix of styles from dub and roots to jungle and steppa sprinkled with some latin flavour with artists from Hungary, Italy, Mexico, USA, Bulgaria and Berlin!
﹌﹌﹌﹌﹌﹌﹌﹌﹌﹌﹌﹌ ★ ﹌﹌﹌﹌﹌﹌﹌﹌﹌﹌﹌﹌
SAT 25 JUNE 2016 · 22:30 h PANKE. GERiCHTSTR. 23 //
BERLIN, WEDDiNG http://www.pankeculture.com/how-to-find-us/
LiNE-UP:
● DU3NORMAL / Hungary /// live dub mixing /
[Culture Dub Records, Aztek Electronic Music, Dan Dada Records]
● JIMI HANDTRIX / USA-Berlin / [Serendubity]
● SELEKTOR BONY / Mexico-Berlin / [Rebel Vibes]
● NG SELECTA / Italy /
● SELECTA GOVERNESS CHALICE / Bulgaria /
http://www.pankeculture.com/rebel-vibes/
contact: https://www.facebook.com/Rebel.Vibes.Berlin
DU3NORMAL, the hungarian dub producer and activist from Budapest will offer a very special session of live dub mixing.
He started his career as a guitarist in different reggae bands before he began his own electro-dub project in 2010. In his productions he mixes classical dub vibes with modern stepper style influenced by jamaican artists and UK dub scene spiced with his very own and particular sound.
Several tunes of DU3NORMAL appeared on international labels' compilation such as Paproota, Marée Bass, Fresh Poulp Records, LCL, Gravitas Recordings, but also a first album «Flow Frequency» on Dan Dada Records in 2013.
His second album "Soulidarity" appeared on the french label CULTURE DUB RECORDS with special guests like Dubiterian, I.Rebel and Babystep. "Soulidarity" is a perfect combination of melody and deep bass spreading DU3NORMAL´s message of love and respect and the responsabilty of all human beings for each other.
Also part of the night will be Berlin based JIMI HANDTRIX from SERENDUBITY with a fine selection of reggae, dub and steppa.
Rebel Vibes resident SELEKTOR BONY offers a charming mix of dub, steppa and jungle with a flavour of his latin roots always spreading positive vibes and energy.
The night is rounded off by NG SELECTA from the north of Italy and SELECTA GOVERNESS CHALICE.
﹌﹌﹌﹌﹌﹌﹌﹌﹌﹌﹌﹌ ★ ﹌﹌﹌﹌﹌﹌﹌﹌﹌﹌﹌﹌
Join and listen Selektor Bony´s Rebel Vibes night flight:
MONDAYS at MIDNIGHT live ON AiR:
http://www.nattyradio.com/
After many years of sharing music and emotion in south Spain by organising parties and concerts in Sevilla REBEL ViBES starts it´s story in the city of Berlin in spring 2014.
Ever transforming REBEL ViBES wants to continue spreading music and sound, with an open concept that blends reggae, dub, jungle, steppa and of course their roots, the latin rhythms, due to the soul and one of the founders of the project, Selektor Bony from Mexico.
﹌﹌﹌﹌﹌﹌﹌﹌﹌﹌﹌﹌ ★ ﹌﹌﹌﹌﹌﹌﹌﹌﹌﹌﹌﹌
Special thanks to:
http://www.irieites.de/