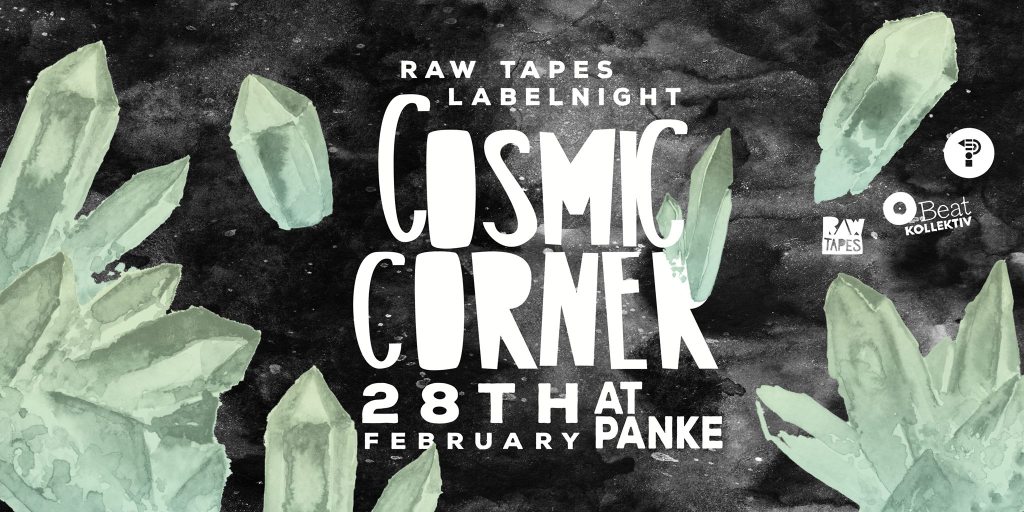 Hello family!
We continue to move along the axis of the year – with February's lineup looking ridiculous as usual.
This time at the Cosmic Corner –
Rejoicer – Aka the dove – in a live set featuring his latest EP's material. Rejoicer is a prolific producer and the raw tapes family head honcho, so expect a serious beat down.
Galo – Raw Tapes resident DJ is only 20 years old and already running Tel Aviv's nightlife with his unique "two steps ahead" selection and original mixing techniques.
He has shared stage with many international acts such as Kid Koala, Peanut Butter Wolf, SBTKRT, French Fries, Mykki Blanco, Rosca, Kaytranada & more
Galo's sets are super dynamic, and always fit the situation perfectly, whichcreates a hotbed for lovers on the dancefloor.
DJ Scientist – Over the past few years, DJ Scientist has become an important figure in the German Hip-Hop and Electronic scene. Running the international label Equinox Records and publishing a magazine (DEAD Magazine), he still takes his time to dj at clubs, release mixes, expand his record collection and, last but not least, produce music.
Marian Tone –
Marian Tone is a music producer from Berlin. He always has been influenced by the sound of Hip Hop, Jazz, Soul, World music and many other styles.
He was first connected to music when he was 7 through his weekly keyboard lessons. At 12, he started to scratch his first vinyls with his brother's turntables and didn't stop since then.
8-10EU at the door
Panke, Gerichtstraße 23, 13347 Berlin, Germany
31.1.2015
Raw Tapes is a spaceship
http://rawtapesrecords.com/