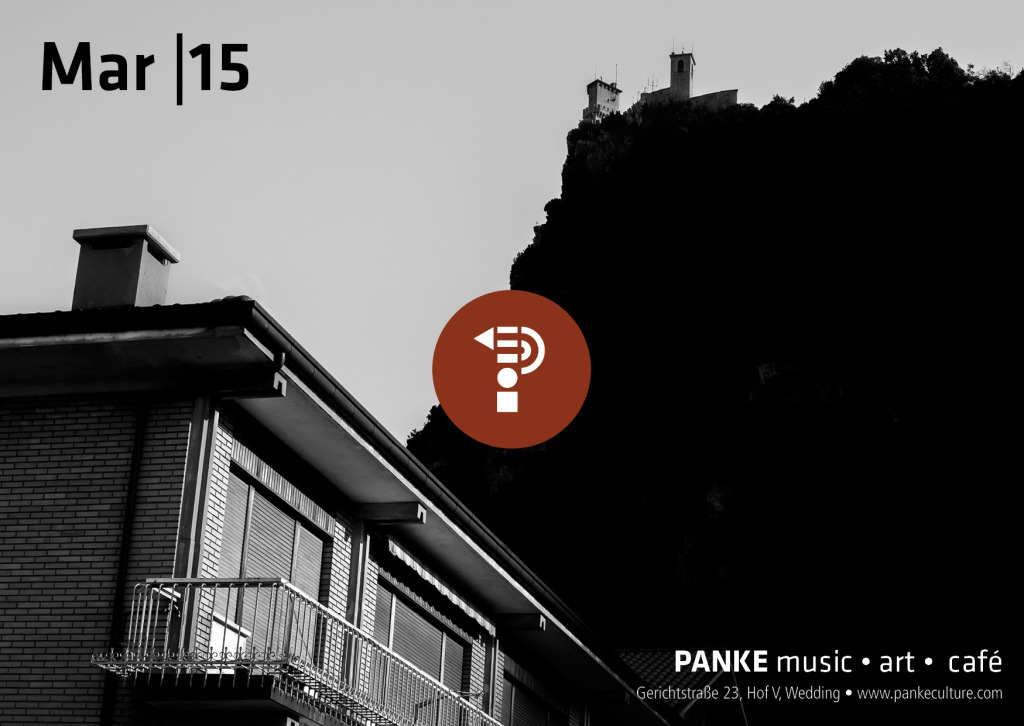 WED 04 | MUTANTENKINO | 20:00
Thematisch zusammengestellte Klassiker und Neuheiten des postapokalyptischen Films zur zivilen Endzeitvorbereitung. mutanten.org
FRI 06 | CANBEMUSTBUTNOT | 22:00
Edition: Schmalzstreuer.
Sean2bealive; MoGreens; Karl; Jozsef.
SAT 07 | BACKYARD JOINTS | 22:00
Beat Set: Jazz Spastiks (UK)
DJ's: BeatPete (Mellow Orange Music/Backyard Joints), Marian Tone (Dooinit Music/Backyard Joints), Educut, Soulix (Beatkollektiv/ Wedding Soul)
Wed 11 | MUSIC POOL BERLIN ABEND #12 | 19:30
Musik in Film + TV. Speakers:
Milena Fessmann (CINESONG), Jana Sotzko.
Details: http://musicpoolberlin.net
THU 12 | SCOPE SESSIONS | 20:00
Artists talks & media salon. Scope is a meeting point for the creative and the curious, a platform for sharing and learning in an informal setting. Guest artists are invited to present a project, a concept, a process or an experience. Check program & info on www.scopesessions.org
FRI 13 | EAST-WEST SESSION #007 | 18:00
The East-West sessions try to bring together various musicians from different genres, disciplines and styles into one big live jam session. Presented by Figub Brazlevic.
SAT 14 | ECK ECHO | 22:30
Eck Echo is back on 2015 with more tropical bombs to drop. Opening the sunny season in Panke, the Eck Echo crew will take you on a ride from wild, humid cumbia horns to dry menacing UK bass snares. Global bass for the Kiez!
WED 18 | UKIYO-E PANKE CINEMA | 20:00
Bilder der fließenden Welt Panke Kino.
THU 19 | WEDDINGSLAM | 19:30
An jedem dritten Donnerstag des Monats laden Robin Isenberg und Wolf Hogekamp zum Dichterwettstreit in der Panke ein. Genaueres unter: fb.com/weddingslam.
FRI 20 | DOWN LOW | 22:00
Underground Electronics with Kenji 451 (Long Lost Relative) and Richard Steel.
SAT 21 | WEDDING SOUL with BEAT KOLLEKTIV & MR THING | 22:30
Beat Kollektiv is back after the birthday party and this time
having Mr Thing from London with them on the stage. Soul, Funk,
Breakbeats and some bit of Hip Hop.
FRI 27  | THE BLOCK | 22:00
Blockparty Vibes in 2015 with a heavy bass twist. Bringing the best of Hip Hop, Trap, Ghetto Funk, Moomba & Dn'B together to make you shake your rump.
SAT 28 | RAW TAPES: COSMIC CORNER | 22:00
Rejoicer (EP Release Liveset)
Galo (Raw Tapes Master DJ)
Werd (Long Lost Relative)
Marian Tone (Beatkollektiv/Wedding Soul)