The event takes place on the 1st of January until the 31st of January.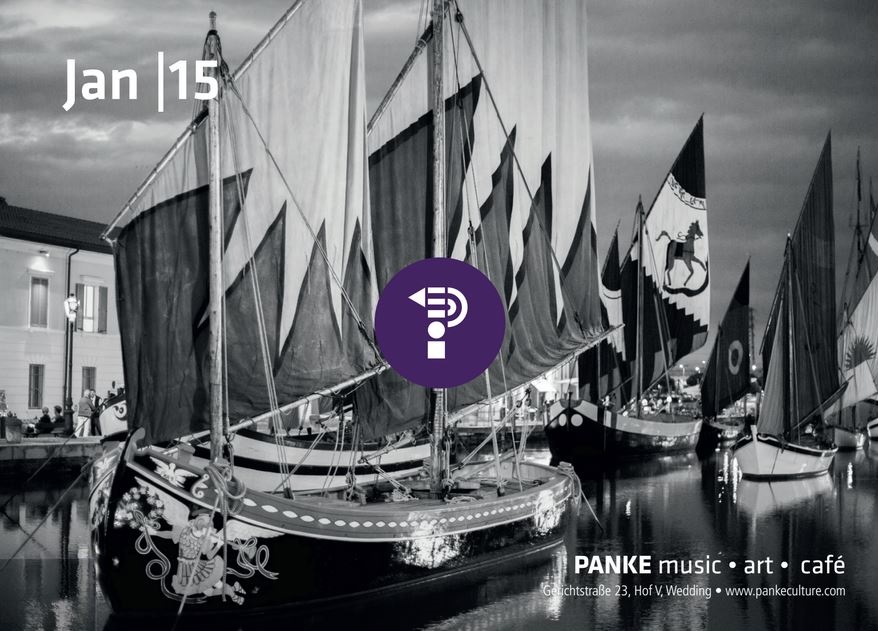 SAT 03 | Backyard Joints | 22:00
Backyard Joints w/Wun Two – Penthouse – LP Release – 12 Vince (Akai47/Hamburg). Featuring Marian Tone & Beatpete, HiFilLab & Educut
WED 07 | Mutantenkino | 20:00
Thematisch zusammengestellte Klassiker und Neuheiten des postapokalyptischen Films zur zivilen Endzeitvorbereitung. mutanten.org
THU 08 | Scope Sessions | 20:00
Artists talks & media salon. Scope is a meeting point for the creative and the curious, a platform for sharing and learning in an informal setting. Guest artists are invited to present a project, a concept, a process or an experience. Check program & info on www.scopesessions.org
SAT 10 | EAST-WEST SESSION #006 | 18:00
The East-West sessions try to bring together various musicians from different genres, disciplines and styles into one big live jam session. Presented by Figub Brazlevic
WED 14 | VJ UNION | 19:00
VJ Union is a global a networking platform for practising multimedia artists.
THU 15 | WEDDINGSLAM | 19:30
An jedem dritten Donnerstag des Monats laden Robin Isenberg und Wolf Hogekamp zum Dichterwettstreit in der Panke ein. Genaueres unter: fb.com/weddingslam.
FRI 16 | Scope Vorspiel Session | 21:00
Scope Exhibtion, Scope Performances, Music and drinks.
SAT 17 | Survival guide | 22:00
Vorspiel Exhibition and musical performane in Survival guide with: Disscc Orchestra, Jacques Gaspard Biberkopf, Brolis DoDo Mundo. Exhibition artists to be announced on Pankeculture.com.
WED 21 | UKIYO-E PANKE CINEMA | 20:00
Bilder der fließenden Welt Panke Kino.
FRI 23| UNTHINKABLE 2 | 22:30
Tuan:Anh and Jacques Gaspard Biberkopf host a night of the Unthinkable. Artists tba.
SAT 24 | Wedding Soul | 22:30
Beat Kollektiv is back with Soul, Funk, Breaks and a bit of Hip Hop featuring Daniel W. Best.
THU 29 | CANBEMUSTBUTNOT | 20:00
DJ's: Karlakakarl; Mr. JB ; Mo Greens ; Zeerone. These four Guys from the southern suburb of Berlin love Music since they arrived on Earth.
FRI 30 | THE BLOCK | 22:00
Blockparty Vibes in 2014 with a heavy bass twist. Bringing the best of Hip Hop, Trap, Ghetto Funk, Moomba & Dn'B together to make you shake your rump.
SAT 31 | RAW TAPES PRESENTS COSMIC CORNER | 22:00
Cosmic Corner #3 Raw Tapes Labelnight w/ LEFTO ( Radio Brussel) / DJ Werd (Lost Lost Relative)/ Fortuna Records (Tel Aviv)/ Marian Tone (Beatkollektiv)