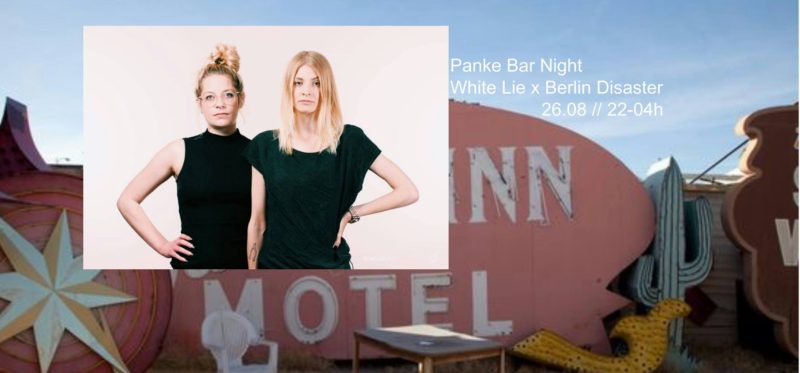 This time in Panke Bar we've invited White Lie and Berlin Disaster to play some tunes all night long, with support from their homegirl ASHUS.
Hiphop x Electronic x Disco x Soul x Rap x Jersey Club x Afro Beats in a mix
White Lie (Golden Mint Productions)
www.soundcloud.com/whitelie-berlin / www.whitelie-berlin.tumblr.com
White Lie aka Whitest Female Hiphop DJ Alive is an impulsive experiment that started in the HQ of electronic music, Berlin late 2014. Over time she's been developing a synergy between soul, neo soul, and jazz – with old school hiphop as a rooted base. A jumble mélange; from saxophone to rap.
She's playing sets at Hotel Radio Paris and Cashmere Radio, and drops mixes for Pigalle Paris Radio on a regular basis. Resident of Unbreakable Beats, and always working hard to promote and high light female DJ's and artists.
–
Berlin Disaster (female:pressure)
www.soundcloud.com/berlindisaster
Berlin Disaster is a Paris-born, Berlin-based DJ who has spent too much time in clubs to not decide to get behind the decks. She likes her sounds hot and sexy and enjoys nothing more than a sweaty dancefloor. Hip hop, r&b, reggaeton, and jersey club are her sweet spots and she is obsessed with finding the weirdest remixes of her favourite songs – think moaning girl samples, borderline cringeworthy mashups and lots of cool riddims.
She also works towards helping more women start DJing and firmly believes that girls do it better.
—
SUPPORT DJ ACT BY:
ASHUS
https://soundcloud.com/diealex-725538463/do-you-woman-mixtape
ASHUS uses her creative mind to deliver groovy yet heavy sets, gracefully making her audience sway with her mix of deep sound spheres and grime, trap, and brazilian/african beats.
—> come through!