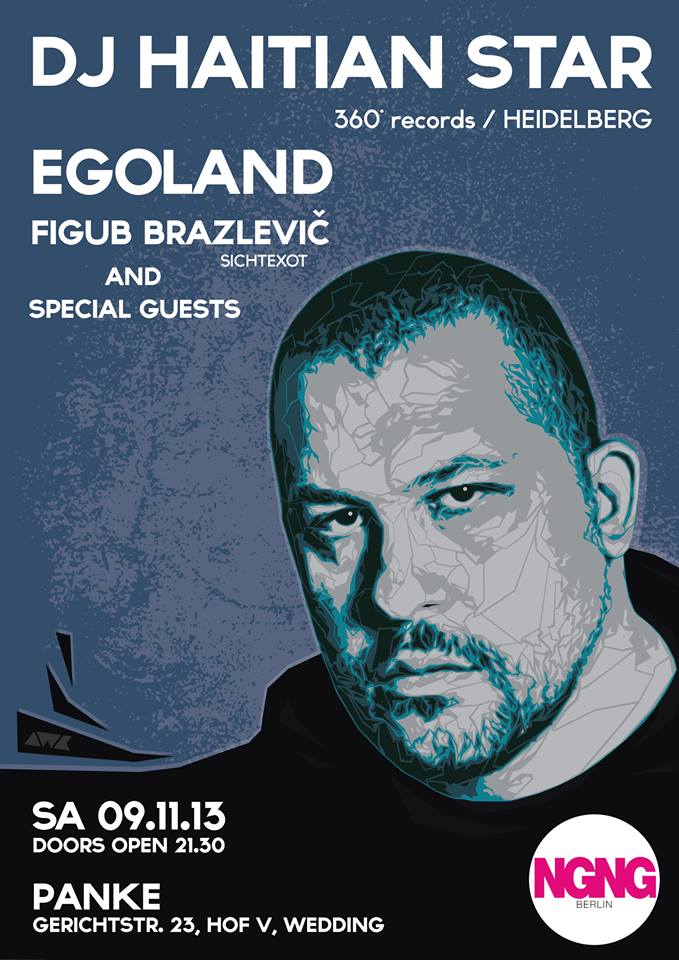 DJ HAITIAN STAR I 360° Records / Heidelberg
EGOLAND
FIGUB BRAZLEVIČ I Sichtexot
SPECIAL GUESTS
DJ´s, MC´s, B-Boy´s, Graffiti
The King is in town….
DJ Haitian Star, aka THE GODFATHER OF GERMAN HIP HOP aka TORCH !!! Dem gibt es wohl kaum noch etwas hinzuzufügen.
Den Anfang machen Egoland:
Was passiert, wenn man drei talentierte Rap-Künstler, die nichts gemeinsam haben außer im selben Krankenhaus geboren zu sein, für einige Monate zusammen in ein Studio sperrt? Sie werden nach kürzester Zeit größenwahnsinnig und gründen ihren eigenen Staat! Seit der bereits jetzt schon legendär gewordenen Veranstaltung "Die 50 schönsten Rapper" sollte Egoland ein Begriff sein, pure Energie und ein Garant für fließenden Schweiß eines euphorischen Publikums.
http://www.youtube.com/watch?v=ELDBUZZ338M
Figub Brazlevič ist gerade DER Beatmaker der Stunde. Letzte Woche veröffentlichte er zusammen mit JuJu Rogers und Teknical Development als Man Of Booom ihr Debütalbum Back to the Booom. Mister Booom wird mit dicken Beats bei einem Live Set um sich werfen und die Vorfreude auf DJ HAITIAN STAR noch steigern.
Man munkelt auch er hat den ein oder anderen Special Guest mit am Start.
http://www.youtube.com/watch?v=XN-XdRtGpf4
Umrandet wird das ganze mit DJ´s, MC´s, B-Boy´s und Graffiti sowie Urban art action. Oldschool Flavor is back in town.
Facebook: https://www.facebook.com/events/250632935090541