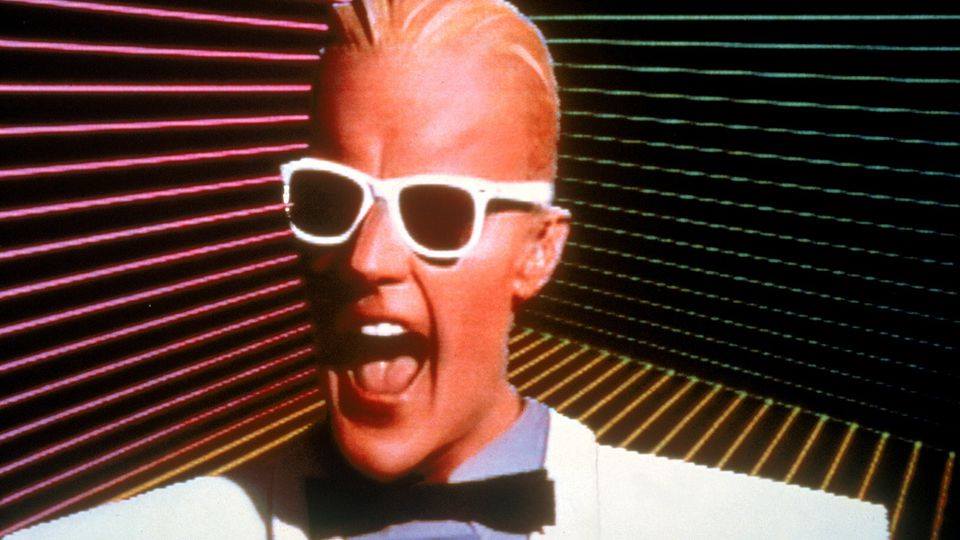 (english below)
Als MTV Mitte der 1980er gerade seinen Aufstieg erlebte, bekam der Musiksender seinen ersten virtuellen Moderator: Max Headroom – eine digitalisierte Intelligenz, die in den Anfangsjahren des World Wide Web und mitten im Hype des Cyberpunk Genres sofort zur Kultikone seiner Zeit wurde.
Durch MTV und andere Marken wurde er weltberühmt – geboren wurde er allerdings in einer dystopischen Sci-Fi Fernsehserie: "Max Headroom: 20 Minutes Into the Future"
In einer endzeitlichen Welt, in der ein paar wenige private TV-Konzerne alles beherrschen und die Macht je nach Einschaltquoten unter sich aufteilen, zieht der investigative Journalist des ominösen Senders "Channel 23", Edison Carter, die Zuschauer in seinen Bann. Er deckt Fälle von illegalem Organhandel und tödlicher Fernsehwerbung (!!) auf und macht sich viele Feinde. Bei einer Verfolgungsjagd verletzt er sich schwer und schwebt in Lebensgefahr. Ein junger Hacker, der für Channel 23 arbeitet, sieht als einizge Überlebenschance für Carter die Digitalisierung seines Gehirns, was bis zu diesem Zeitpunkt noch nie versucht wurde. Das Experiment glückt und Carter überlebt – jedoch hat er nun einen digitalen Doppelgänger mit anarchistischm Humor, der im Kabelnetz lebt: Max Headroom.
Wir zeiten den Pilotfilm und zwei weitere ausgesuchte Episoden aus der Serie, davor noch was Kurzes und anschließend die obligatorische Folge Adventure Time.
Alles in englischer Originalfassung
——
During the rise of MTV in the middle of the 1980s the music-TV station got its first virtual anchorman: Max Headroom – a digitalized intelligence in the beginning of the world wide web era and the cyberpunk hype became an instant cult icon.
MTV and other brands made him world famous, but he was born in a dystopican sci-fi TV series: "Max Headroom: 20 Minutes Into the Future"
In a dystopian world that is ruled by a few enormous TV corporations and in which the power is dictated by audience ratings, the investigative journalist of the ominous broadcasting station "Channel 23" Edison Carter fascinates the viewers exposing cases of illegal organ trading and rumours of deadly TV commercials (!!). During a pursuit by some of his enemies he gets heavily injured and hovers between life and death. A young hacker of Channel 23 sees only one chance for survival: the digitalization of Carter's brain. The unprecedented experiment is a success and Carter survives – but now he has a digital doppelganger with anarchistic humour who lives in the TV network: Max Headroom.
We will show the pilot and two selected episodes of the series, a short for the start and the usual Adventure Time episode as dessert.
All in english original version.
—
MUTANTENKINO findet in der Panke im Wedding (Gerichtstr. 23) statt, einem wundervollen Club mit veganem Bistro in einem alten Fabrikgebäude – ein Ort, der auch im zukünftigen Ödland der zerstörten Ruinen Berlins als Anlaufpunkt für überlebende Helden und Pioniere einer neuen, besseren Welt weiterbestehen wird.
—
MUTANTENKINO präsentiert auf längst veralteten Tonbildträgern thematisch zusammengestellte Klassiker und Neuheiten des postapokalyptischen (Kurz-)Films in dystopischem Ambiente an endzeitlichen Orten rund um Berlin.
Der Eintritt ist frei, Spenden sind jedoch erwünscht – aber bitte kein Geld, denn das wird nach dem Untergang nicht mehr wert sein als anderes buntes Papier…
—