28th of March
Kinophagie sessions combines unknown or underrated Cinema with a Music session.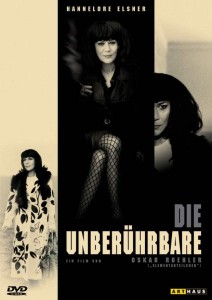 This time we will show the german Film Die Unberührbare by Oskar Roehler, and Javier Lózano will play some tunes before and after the film.
Flanders, a famous female author, travels 1989 after the fall of the Berlin wall into the German capitol. She is deeply depressed of the events because she saw the communistic states as a very good thing that has now ended. In the joy of these days she finds no person to understand her, so she has to travel back to Munich. After meeting several people, known and unknown, it seems as if there will be no way to go.
We hope to see you here.
Hosted by Nada
10th of January
we will screen Last Year at Marienbad by Alain Resnais, and our friend LaFinolis will select some Music to entertain us before and after the film.
Would be nice to see you here. 
November 22nd
From now always on Thursdays!
This time the film will be Arrebato by Iván ZuluetaAn absolute must of the Spanish new wave Cinema. There will be also Music before and after the film; our guest DJ Josephine Machine will play some "Nueva Ola" for all of us.
See you then!
Hosted By Nada
October 16th
Kinophagie strikes back with the german-spanish joint production Vampyros Lesbos, an erotic horror movie by the cult B-Movie director Jess Franco.
This time Nada has selected some sexybloodygroovie Music related to the genre.
Hope to see you all there!
Hosted by Nada
NADA. MADRID/BERLIN. (geometriasorganicas@hotmail.com)
Art, Photography and Cinema student. He has put Music in some underground places of Madrid, such as Oui Cocktail Club, where he was organizing once a month the party Rato Gaga , with exclusively Oldies Music (20s, 30s, 40s, 50s, 60s) ; Al Lab Oratorio, monthly Club of experimental Music celebrated in a cave in the centre of the city, and in A Coruña, in the north of Spain, at the Disco Club Restaurant O Portiño. Habitual collaborator in the Parties Vuélvete Underground, thematic parties celebrated in several places of Madrid ( Le Ki, Oui Cocktail Club, Low Club, Stardust Club) and also collaborator of Fast Gallery, collective and itinerant gallery dedicated to several artistic disciplines; Plastic Arts, Literature, Music, Video etc…
Nowadays he resides in Berlin and has played Music in places like Balkan Tripps Pingpongbar, Supersonic, Altes Finanzamt, Café IchOrya, Loophole, the Lounge of the Hotel Concorde Berlin and in Schokoladen Mitte, where he has a monthly residence. Also collaborator of Alkomerz and Silly Europeans projects.
September 11th
We will screen The Conspirators of Pleasure by Jan Švankmajer.
This time Alexandre Lemieux is playing some Music over this. Come and see…
August 28th
Kinophagie is back Tonight with the precious film by Sergei Parajanov, The Color of Pomegranates.
This time the film will have an exclusive new soundtrack consisting of the new musical project of dj Sajira, Don The Tiger and Krapoola, three heavyweights of the current underground forces in Berlin. Come and join us on this special night.
Hosted by
Nada.