The event takes place on the 19th of December until the 21st of December starting at 21:00.
19th – 20th and 21st of December
21 o'clock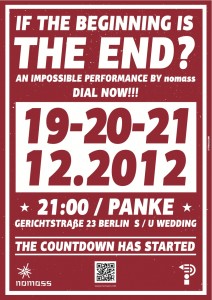 "Did you eat something that didn't agree with you?" asked Bernard.
The Savage nodded. "I ate civilization."
(Brave New World, Aldous Huxley)
IF THE BEGINNING IS THE END? is a farewell to the old world.
nomass performs an assimilation game tuned on 5 rules, 4 performers, 2 musicians and a survival kit
nomass for this performance is: Litsa Kiousi, Marco Wittorf, Vasso Polymeni, Pavlos Kapalas, Theo Klissiaris and Mathieu Sylvestre.