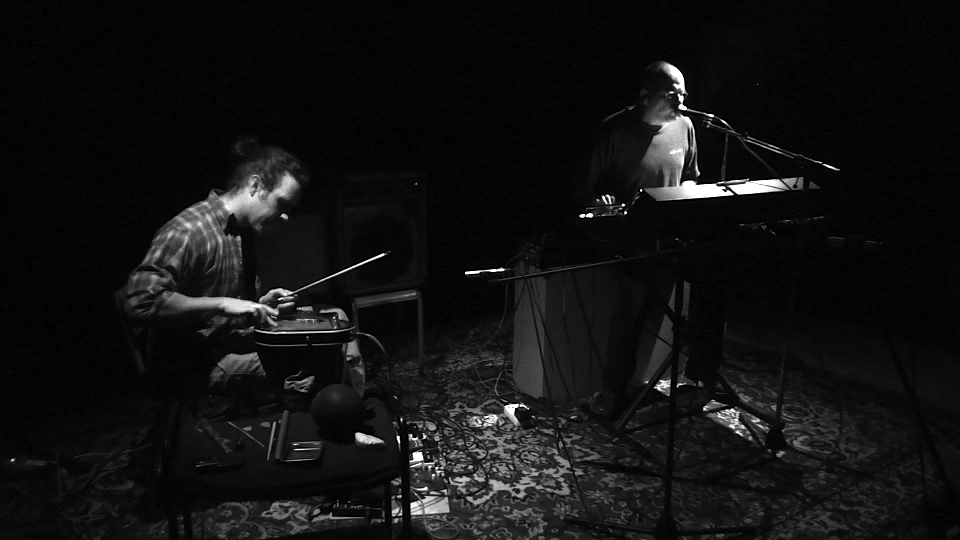 Guillaume Gargaud and JP Gomez form this powerful intense duo playing improvised music that encompasses violence and expressionism as much as sweetness and minimalism.
"Rough stridencies, chirpings and gurgles gush from the bowels of a loop, analog and antediluvian console or synthesizer (also analog), the 'vocals' are cartoony and cyclothymic guitar. It's full of bumps, reefs, nooks and humour." LE NONJAZZ Paris.
co21840.wix.com/gargaud-gomez
Guillaume Gargaud ( Born in France in 1979) is a composer and improvisational guitarist. He's already released about ten albums and composed soundtracks for contemporary dance. He has collaborated with "Conserveries Mémorielles" (Quebec) Light Cone (Paris, experimental cinema), "The Future Ethnic Comparative Research Lab" (Paris), S.Lascaux (Lecturer, University of Le Havre), "Two Sequana (Contemporary Art,Paris) F.Barabino (Buenos Aires) and many more. He lives in Le Havre in France where he also teaches music.
Jean Philippe Gomez is a visual artist who works with paint and sound in a concrete style. He swings from one to the other to find the answers to his questions. Improviser, researcher and self-taught acoustically, he has been working collaboratively on the concept of 'Nozal' he created since attending School of Fine Arts (1982-1987), which is a free improvisation music group with variable geometry. He has also been painting and working on installation art and projects in numerous exhibitions in France and touring in Europe and the United States.
Ray Kaczynski born in the USA. He studied at the Central Michigan University and UW-Wisconsin in Madison. His studies included percussion, composition and world musics. He studied Mrdangam and the South Indian rhythmic system with Ramnad V. Raghavan when he was at Wesleyan University. He received an NEA Artists grant to study drum set with Keith Copeland in NYC. He received a Fellowship to the Aspen Music Festival in 1986 as a Jazz Fellow.He has performed in NYC, Boston, Chicago, Atlanta, LA, San Francisco as well as tours in Germany, France, Norway, North Africa, Russia, Eastern Europe, Georgia and India. He has performed, toured and/or recorded with Joe Kennedy, Ernie Watts, Roswell Rudd, Doc Cheatham, Jimmy Knepper, Milt Hinton, Richard Davis, David Murray, Julius Hemphill, Jaki Byard, Billy Pierce, Randy Brecker, and many others. He is active as a Jazz Musician, but due to his interest in all music he can be heard live or on recordings of New Music, Experimental Music and Improvised Music: Zeitkratzer, Elliot Sharpe, Keith Rowe, Fred von Hofe, Conrad Bauer, Sirone Jones, Scott Fields etc. He is also active as a teacher in workshops, group and private lessons and music in the schools.

He lives in Berlin, Germany