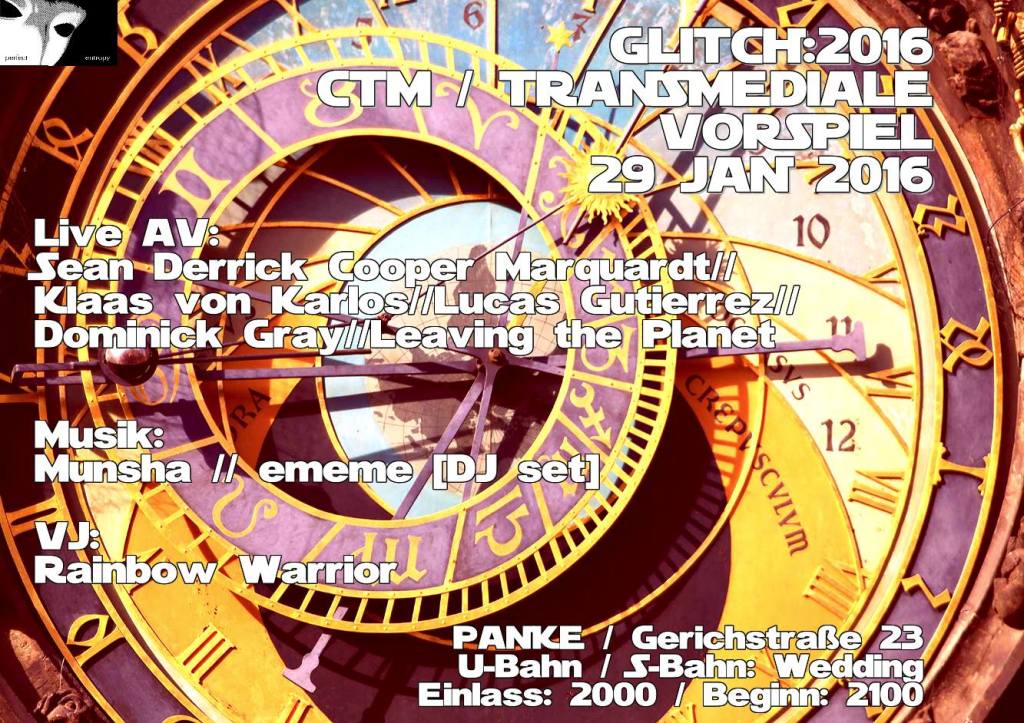 GLITCH Berlin returns in 2016 with the CTM/Vorspiel edition, featuring a selection of the most radical Audiovisual and Nü Experimental-Electronic scene in Berlin.
Resident Advisor: http://www.residentadvisor.net/event.aspx?791171
AV/LIVE:
sean derrick cooper marquardt // Klaas von Karlos ReVerse Bullets // Lucas Gutierrez // Dominik Gray // Leaving the Planet
MUSIK:
Munsha // ememe (DJ)
VJ:
RAINBOWWARRIOR
About GLITCH:
symbioticcube.com/product/sc009-glitch/
perfect-entropy..com/glitch
ARTIST INFO:
Sean Derrick Cooper Marquardt
Accidental Guitar * The Aesthetic of Failure*
Sean Derrick Cooper Marquardt (Chicago, Berlin) also releases as (*MoreBlackThenGod***Drone Messiah***The S&M Trio) – Founder & Artistic Director at Hortus Conclusus Records, Friends of Sagittarius Records and Galerie S&M. The improviser composer employs his signature "accidental guitar" method on music of haunting, sonically jarring loops. At times cavernous and resonant as a cathedral, his recordings explore the depths of the drone, exploiting glitches and mutating overtones into chorus-like swells, mechanical revolutions and washes of beaded static. These meditations upon cyclical time and the ubiquity of the elements seek to elevate our natural world to pure and infinite tonality, soaring above us like mass aural hallucinations.
Sean Derrick Cooper Marquardt continues to blur the line between improvisation and composition, using chance as the foundation of loops and drones that fill space and seemingly expand time.
This artist has over 500 album, splits, and compilation releases.
www.soundcloud.com/berlindolls
https://soundcloud.com/berlindolls
https://soundcloud.com/hortusconclususrecords
Klaas von Karlos (ReVerse Bullets)
www.reversebullets.com
https://soundcloud.com/reverse-bullets
Lucas Gutierrez
http://www.lucasgutierrez.com/
https://soundcloud.com/lucas-gutierrez-com
Dominik Gray
http://www.dominickgraymusic.com/audiovisual
https://vimeo.com/album/3321412
Leaving the Planet
www.symbioticcube.com
www.leavingtheplanet.org
Rainbow Warrior
https://www.rainbowwarrior.at/
https://www.facebook.com/rainbowwarrior.film/?fref=ts
Eintritt: 5€ before 0000 / 7€ after