Glen Porter & The 2nd Class Citizen project (with Kevin Matthews) / The Open Road The Smell Of Blood Tour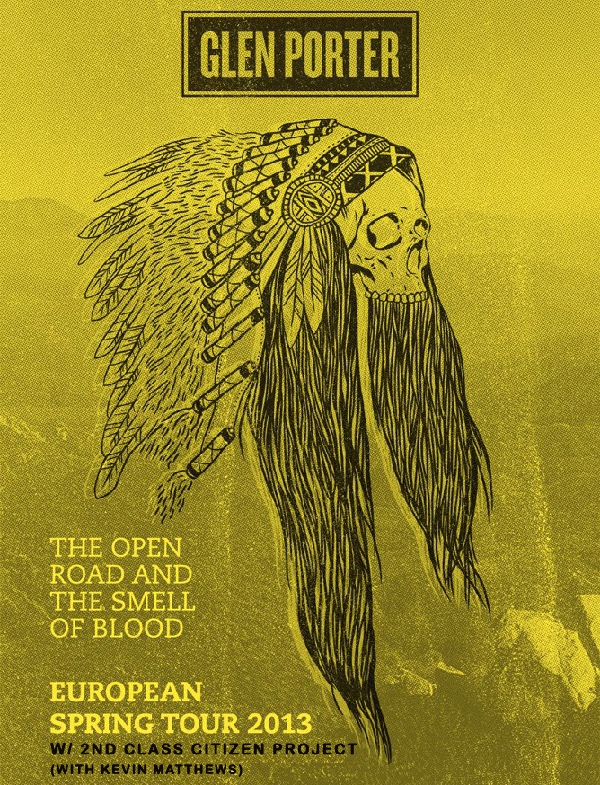 With the help of ableton, an electric guitar, korg padcontrol, and a novation launchpad Porter recreates his ferocious dread fueled guitar-bass-drum-driven instrumentals. Using crisp and snappy beat thunder augmented by shuddering layers of tremolo-laden guitar twang Porter takes you on a journey through surf/psych/prog/folk beats drowned with wailing guitars and volcanic drumming. Set sail deep into the psyche of the "one-man-band", Glen Porter, in his set for "The open road and the smell of blood" European tour spring 2013.
2econd Class Citizen (Equinox Records) has been keeping listeners spellbound with his unique psych/folk/hip-hop fusion for many years. Now he's joined by Kevin Matthews a multi instrumentalist and keys man with a classical background and a love of many other styles from jazz to d&b for part 2 of the small minority tour. featuring music from his two albums both of which recieved favourible reviews from many well respected artists and reviewers alike.
This project draws on Kevin's musical skills and Aaron's intuitive and astounding song building wizardry – expanding the sound in a truly exciting fashion.
Other tour dates so far:
Mar 22. Beim Weissen Lamm, Augsburg, Germany,
Mar 23. Panke, Berlin, Germany
Mar 27. Boro, Brno, Czech Republic
Mar 28. Fuga, Bratislava, Slovakia
Mar 30. D-Bochum, Rotunde, Germany
Apr 2. Helsinki Klub, Zürich, Switzerland
Apr 3. Rossli bar, Bern, Switzerland
Apr 5. WIE Badeschiff, Vienna, Austria
Apr 6. Cinematograph, Innsbruck, Austria
This spring, Glen Porter (Project: Mooncircle) and 2econd Class Citizen (Equinox Records) will be touring together in europe.
http://equinoxrecords.com/
http://projectmooncircle.com/
http://2econdclasscitizen.com/
http://www.facebook.com/2econdclasscitizen
http://glenporter.org/
http://www.facebook.com/pages/glen-porter/19986496736