The event takes place on the 12th of March starting at 16:00.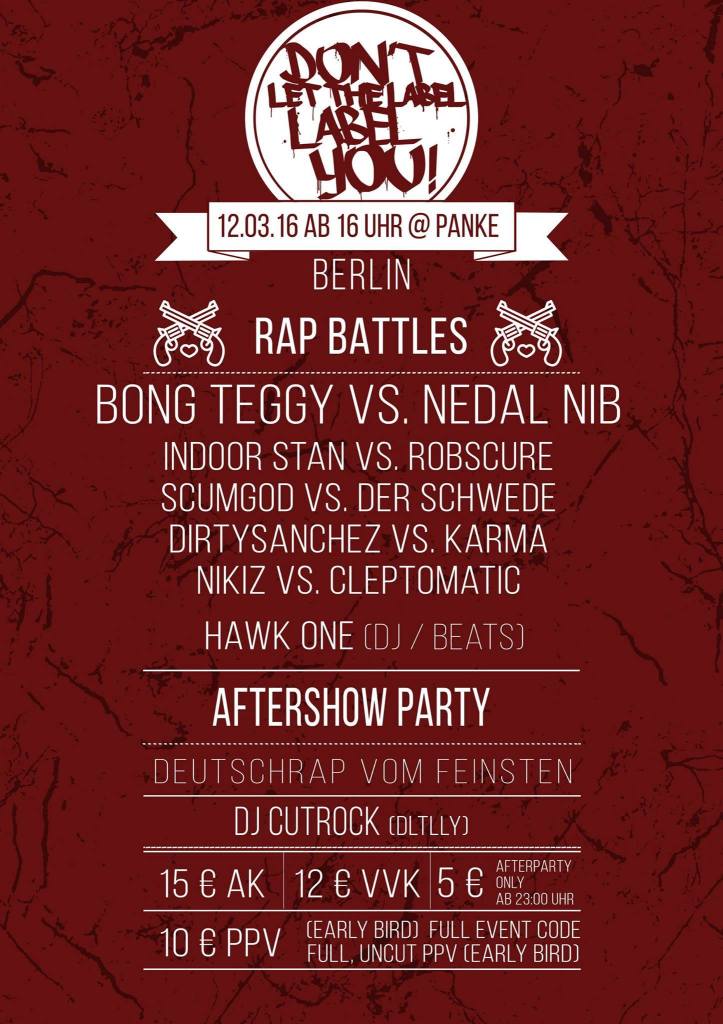 Doors Open: 16:00
Open Mic: ab 16:30
Live Battles ab 17:30
Afterparty ab 23:00
Line Up:
Bong Teggy VS Nedal Nib
Indoor Stan VS Robscure
Scumgod VS Der Schwede
Dirtysanchez VS Karma Official
Nikiz VS cleptomatic

DJ: HawkOne
Afterparty ab 23:00:
DJ Cutrock
DLTLLY – Deutschrap vom Feinsten!
Die ersten 30 'early bird' Karten fürn 10er weg:
VVK:
http://www.dontletthelabel.bigcartel.com/product/dltlly-berlin-live-battles-afterparty-vvk
** ES GIBT KEINE PHYSISCHEN KARTEN
(nach einer Bestellung kommt der Paypal Name und die Anzahl an gekauften Tickets, vor Ort auf eine VVK).
Ausweis und/oder Paypal Bestätigung mitbringen.