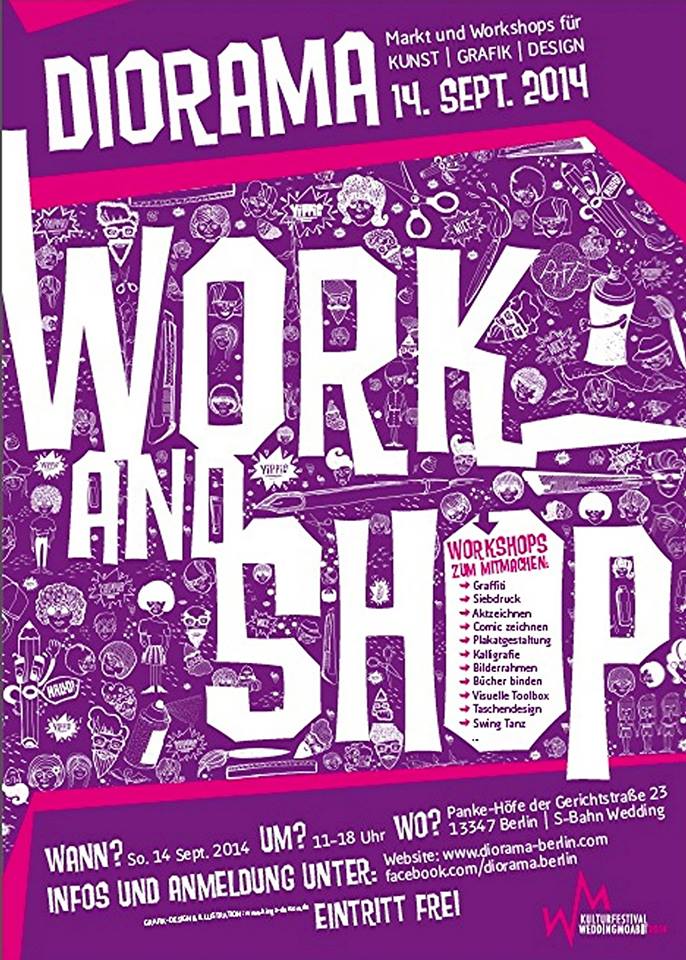 Special Kulturfestival Wedding Moabit event taking place in our Hof on Sunday.
A special Sunday Menu:
* Black bread sandwich with houmos, roasted pepper and pesto (v)
* Feta, cucumbers and rhubarb chutney sandwich
* Roasted Pumpkin, caramelised onions, rocket and apple Baguette
Panke bistro opens from 11:00.
Markt und Workshop für
Grafik Design Kunst
So. 14. September 2014 (11 – 18 Uhr)
Panke-Höfe: Gerichtstr. 23, 13347 Berlin
Website: www.diorama-berlin.com
Kombination aus Designmarkt und Mitmach-Workshops
Am Sonntag, den 14. September 2014 präsentiert sich DIORAMA Markt & Workshop zum dritten Mal, zeitgleich zum Kulturfestival WeddingMoabit. Im Herzen Weddings, den bekannten Panke-Höfen (Gerichtstraße 23/S-Wedding) wartet zwischen 11 und 18 Uhr eine in Berlin einzigartige Kombination aus Kunst-/Designmarkt und zahlreichen hochwertigen Kunstworkshops auf die Besucher. Die sieben Panke-Höfe vereinen eine riesige Vielfalt an kreativer Szene. Zahlreiche Ateliers, Tangoloft, Galerie, Bar, Club und das benachbarte Stattbad machen diesen Ort zu einem der interessantesten in ganz Wedding und Umgebung. Rund 50 Künstler sorgen für einen hochwertigen und abwechslungsreichen Markt, darunter sind die international bekannten Illustratoren "eBoy". Zusätzlich wird ein Programm angeboten, das den Besuchern eine Teilhabe und Interaktion ermöglicht. Graffiti, Siebdruck, Comic zeichnen, Plakatgestaltung, Aktzeichnen, Kalligrafie, Buchbinden, Bilderrahmen, Visuelle Toolbox, Taschendesign und vieles mehr – DIORAMA lädt Besucher ein, hochwertige Arbeiten nicht nur zu kaufen, sondern sie auch selbst zu produzieren. Es entsteht so die Chance Neues auszuprobieren, zu lernen und vor allem mit Künstlern in Kontakt zu kommen. Das Highlight bildet die Kooperation mit der Graffiti Lobby Berlin, welche während der Veranstaltung fünf riesige Wände künstlerisch gestaltet und Workshops anbietet. Der Eintritt ist frei. Für einige Workshops sind eine Anmeldung und Teilnahmegebühr erforderlich. Eine Übersicht aller Workshops findet sich auf der
Website www.diorama-berlin.com.
Alle Infos auf einen Blick: Termin: Sonntag, 14.09.14 (11–18 Uhr)
Ort: Panke-Höfe, Gerichtstraße 23, 13347 Berlin
Workshops: vor Ort, um Anmeldung wird gebeten
Anbindung: S-Bahn Wedding
Gastronomie vor Ort
Eintritt ist frei