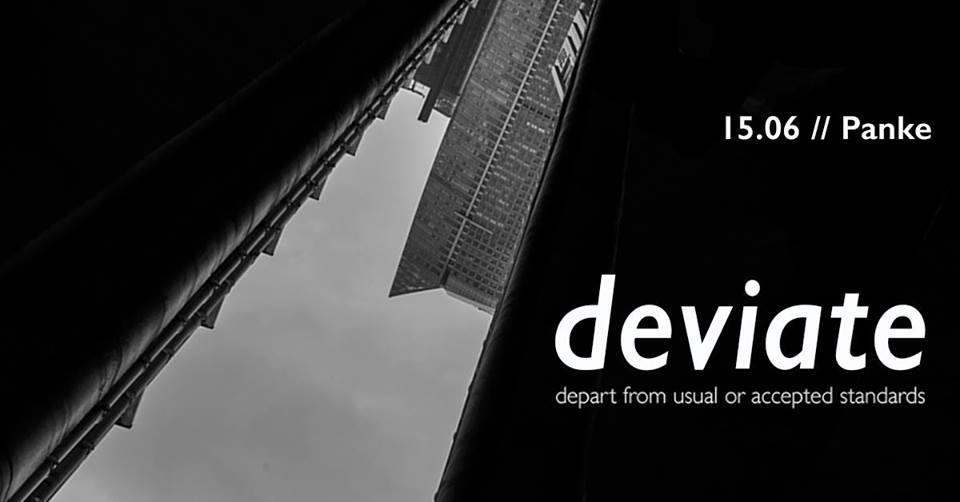 After what was a successful launch of Deviate in February – we move right on to version 2.0 on June 15th.
For those who may of missed our debut night we are a newly formed bass venture with focus on under-represented DJ's and producers in particular in DnB, Dubstep, Bass, Footwork, Grime, Juke, Experimental and other break-beat genres.
In a scene that is still largely male dominated Deviate is a space that is not limited to but with definite dedication on switching up line-ups. We are here not to exclude but to bring about a more equally weighted dance scene, simply put we are here to deviate from what has been the status quo in bass heavy genres.
Line-up:
OTZ
Subaltern Records / Hamburg
https://soundcloud.com/otzbass
SAIMAN
Impulse / Berlin
https://soundcloud.com/deejay-saiman
https://soundcloud.com/platform/saiman
https://www.facebook.com/ImpulseBerlin/
LEBOWSKI
Impulse / Nord Label / Berlin
https://soundcloud.com/nordlabel
https://www.facebook.com/basslebowski/
HNS
Audiomassive / Klangbiotop / Bassport / Berlin
https://soundcloud.com/hns/tracks
https://hearthis.at/hns/#sets
https://www.facebook.com/HnsAudiomassive/
https://www.facebook.com/Audiomassive/
ZIAFLOW
Tuba NYC / Subaltern Records / Deviate / Berlin
https://soundcloud.com/ziaflowmusic
https://www.facebook.com/ziaflowmusic/
SAMMY B
Bassism Records / Deviate / NZ
https://www.mixcloud.com/sammybbaker/
https://www.facebook.com/SammyB.NZ/