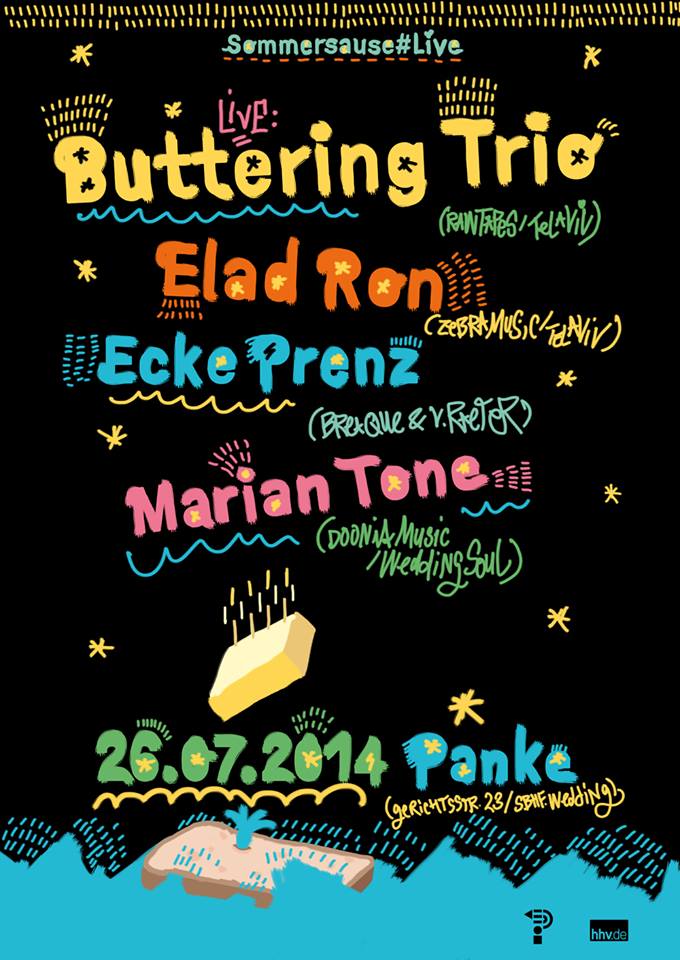 #SOMMERSAUSE @ Panke
LIVE:
– BUTTERING TRIO (Raw Tapes/Tel Aviv)
Buttering Trio is consisting of KerenDun, Rejoicer and Beno Hendler.
from the press –
This particular Berlin/Tel Aviv connection crafts densely layered and sophisticated nu soul not a million miles away from Quadron, Georgia Anne Muldrow or Little Dragon. At the same time, these aural treats are not for the faint of heart: KerenDun, Rejoicer (a. o. producer of Bajka) and bassist Beno Hendler (Balkan Beat Box) love to lace their sound with sharp synth bass, progressive chords and off-kilter, yet never off-key, beats and vox for a challenging sonic journey inspired by the grandmaster of all things "out there," Frank Zappa. So, listen closely … or you might miss some of the tricky snippets thrown into the mix!
https://www.youtube.com/watch?v=r-M2rWCQZnM
https://www.youtube.com/watch?v=NWsuVnec04I
http://rawtapes.bandcamp.com/album/toast
/////////////////////////////////////////////////////////////////////////////////////////////////
DJs:
– ELAD RON (Zebra Music/ Tel Aviv)
https://soundcloud.com/eladronzebra/elad-ron-at-the-tonic-lounge
– ECKE PRENZ (Breaque & V.Raeter)
http://www.mixcloud.com/EckePrenz/
– MARIAN TONE (Beat Kollektiv/ Dooinit Music)
http://mariantone.bandcamp.com/
https://www.youtube.com/watch?v=_c-yBiwGGpI