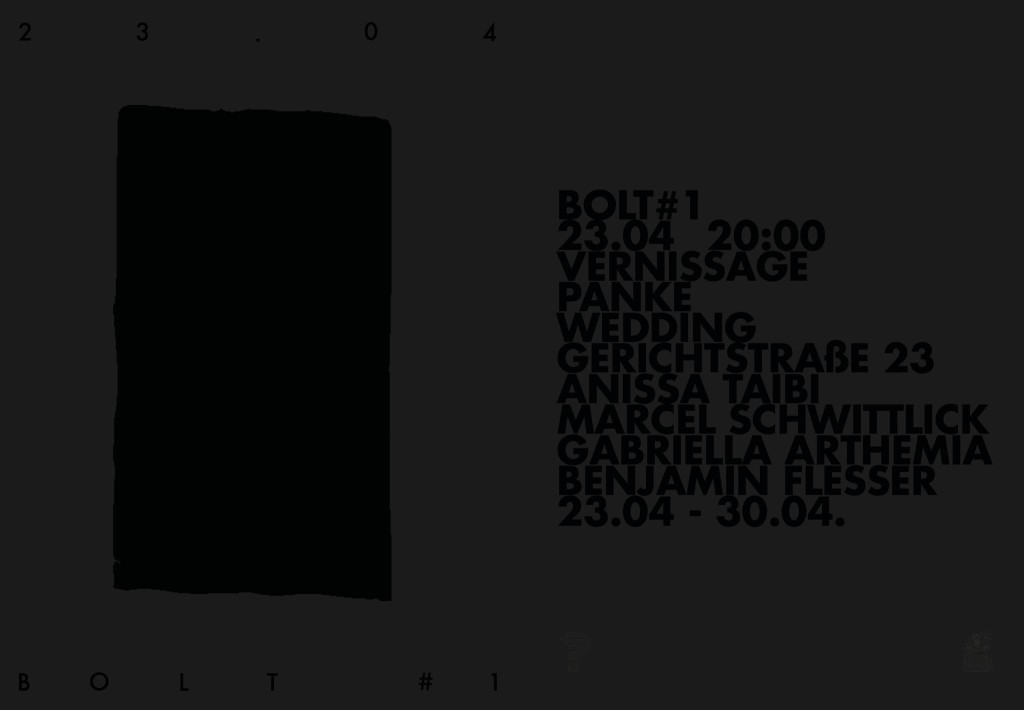 BOLT #1 is the first of an exhibition series by the BOLT collective.
What might happen in the abstract existence of light in darkness? Where are connections between fiction and reality, how could they be created? How do paradox and reality get together?
The works that were created by the participating artists show their different perspectives concerning these questions.
BOLT is an artist group working together since mid of 2013. Its members are based in the fields of art, architecture, music, sound, design and dance. BOLT is about organizing events and exhibitions together by relying on each other's skills.
__________________________________________
BOLT #1 ist die erste Ausstellung einer Veranstaltungsreihe des BOLT Kollektivs.
Was geschieht in der abstrakten Welt des Lichts innerhalb der Dunkelheit? Wo gibt es Verbindungen zwischen Fiktion und Realität, wie könnten diese geschaffen werden? Wie treffen das Paradoxe und Realität aufeinander?
Die Arbeiten der teilnehmenden Künstlerinnen und Künstler zeigen ihre unterschiedlichen Blickwinkel auf diese Fragen.
BOLT ist eine KünstlerInnengruppe, die seit Mitte 2013 zusammen arbeitet. Die Mitglieder kommen aus den Bereichen Kunst, Architektur, Musik, Sound, Design und Tanz. BOLT organisiert Veranstaltungen und Ausstellungen mithilfe der Kapazitäten der Mitglieder.
__________________________________________
Gabriella Arthemia
Benjamin Flesser
Marcel Schwittlick
Anissa Taibi
Vernissage: 23.04., 20:00
concert
21:00
Flesh Flash
performance
22:00
chopstickradiator https://soundcloud.com/chopstickradiator
Der Verlust von Aufnahmefähigkeit
23:00 Uhr
Jo Frgmnt http://frgmnt.org/
djs at the bar
20:00- 22:00 UIUS https://soundcloud.com/uius
22:00- end Mario Illgna (Dualshock, HAELT rec.) https://soundcloud.com/user8432386
facebook:
https://www.facebook.com/events/1410486802551541/1411921915741363/