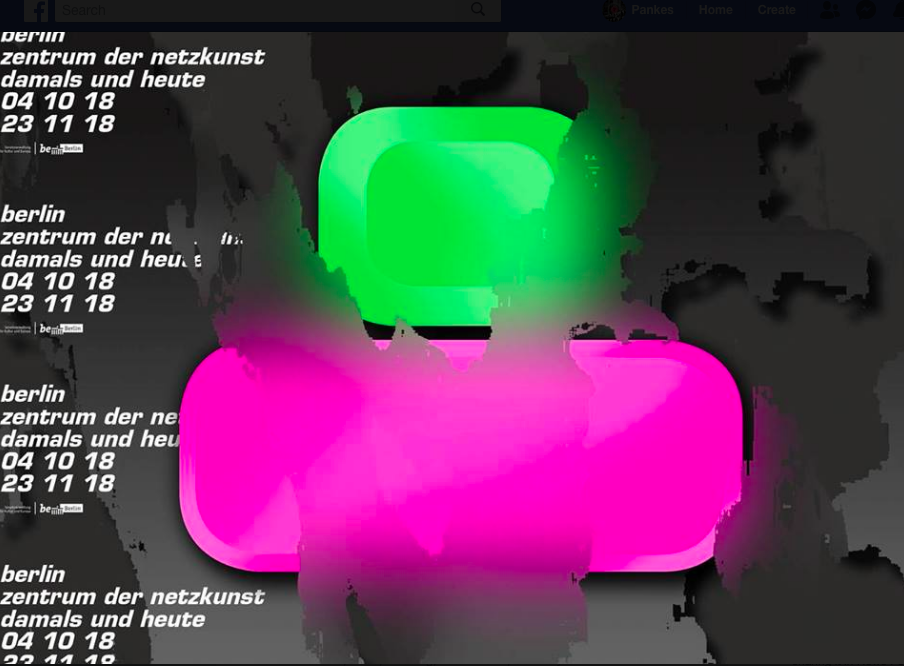 1990s berlin was one of the centres of net art. in the new spaces of possibility of the reunited city, the first works of net art were techno(logical) and artistic experiments that grew out of the proximity of club and lab, in terms of both protagonists and locations. inspired by what was then the subcultural movement of techno, artists formed collectives perceiving the net as a medium in which utopias and dystopias of the transition into a digital network society could find artistic expression. the exhibition sets up a dialogue between the net art activities of the 90s – with exemplary reconstructed works as well as re-interpretations – and the net art works of the current generation of berlin-based artists. many post-digital artists have their roots in the work of the preceding generation, and this exhibition seeks to establish that link through its protagonists as well as aesthetically. in this way, the show hopes to experimentally test the thesis that the questions addressed by these artistic investigations have remained the same, although the medium of the net itself is always changing.
● participants:
_nadja buttendorf (exhibition) (workshop)
_simon denny (exhibition)
_harm van den dorpel (exhibition) (panel)
_constant dullaart (exhibition)
_holger friese (exhibition)
_eva grubinger (exhibition) (reconstruction) (lecture)
_internationale stadt berlin (exhibition) (reconstruction)
_jonas lund (exhibition) (panel)
_sebastian lütgert (exhibition) (reconstruction) (lecture)
_katja novitskova (exhibition)
_sebastian schmieg (exhibition)
_cornelia sollfrank (exhibition) (panel)
_aram bartholl (workshop)
_joachim blank (lecture)
_annet dekker (lecture)
_ché zara blomfield (panel)
_karl heinz jeron (lecture)
_diana mccarty (panel)
_omsk social club (panel)
_pit schultz (panel)
_alexander scrimgeour (moderator)
_peggy sylopp (workshop)
● reconstructions:
central to the exhibition "berlin, centre of net art – then and now" is the idea that the key questions to do with working with and in the medium of the internet have not essentially changed. the internet is exponentially more powerful in all its quantitative aspects, but it is not clear that anything fundamental is qualitatively different in its structure. for this reason, it seemed crucial to us to make early works of net art accessible again. through the restaging of these works, their arguments and specific formulations can again be made visible and reconnected to contemporary discourses. for this exhibition we have re-created three central yet long lost works of early berlin net art: clubnetz, c@c – computer aided curating and implorer.com. because the software and hardware of net art are constantly changing, it raises more questions about conservation than many other art forms, since countless works that can no longer be visited online are hence as good as gone. each such work should be understood within the specificity of its time, its respective materials and technical context. and each case calls for specific methods of re-interpretation, emulation or reconstruction. one example of each of these approaches is on view here.
clubnetz (1993–94) has been transformed into an app in a re-interpretation that updates the historical irc (internet relay chat) channel and adapts the work to the contemporary technological environment. the combination of today's communication methods with old log files and replayed chat archives and bots emphasises the concept behind the work and not the terminal hardware of its original installation as a live-chat network in berlin techno clubs.
for eva grubinger's c@c – computer aided curating (1995) we have attempted a reconstruction. c@c was a collaborative, participatory curation platform that was especially notable for how the artist worked with the programmer thomax kaulmann to create a technical environment in which artworks could not only be curated but also produced. for the exhibition we have recreated the platform as a specific snapshot from the reconstructed scripts and are hoping to install it on its original hardware and software platform.
for implorer.com (2002) we are emulating a domain name server (dns) and simulating the act of browsing selected historical domains. in this emulated internet running on historical hardware and software, visitors can then browse these sites using the implorer.
the other net art works in the exhibition are also shown in their historical hardware and software context where it is necessary to understand the work.
● directions:
_panke.gallery, gerichtstr. 23, hof 5, 13347 berlin
_bus 120, 247, m27 (nettelbeckplatz), n20 (night bus)
_s-bahn s41 s42
_underground u6
_from wedding station there is a 3 minutes walk to the gerichtsstrasse 23 and throughout the impressive backyard system to the panke.gallery
● team:
_curator: sakrowski
_curator: tabea rossol
_public relations: dj schlucht
_graphic design: anna-luise lorenz, ingmar spiller
_web programming: anna-luise lorenz