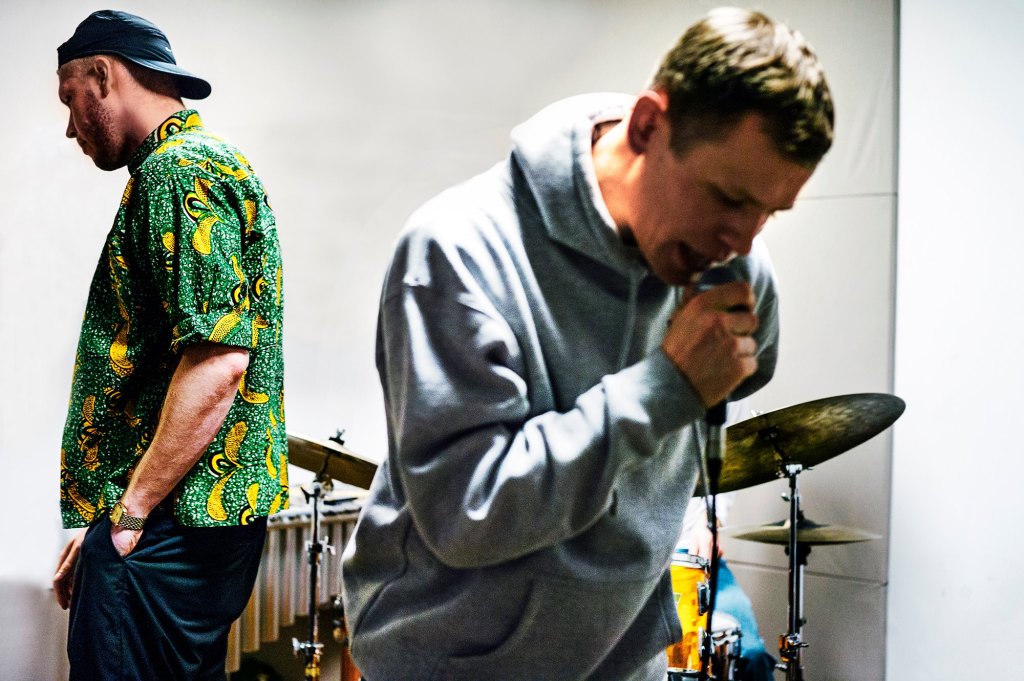 BACKYARD JOINTS presents:
FREDFADES & IVAN AVE (NO) @ Panke (Berlin)
Backyard Joints:
Dedicated to the dopest Joints in grown up Hip-Hop,
Beats, Funk & Soul. Creating a soundscape that
makes your head nod and your feet itch.
Marian Tone & BeatPete bringing you their highly
contagious Dope on plastic.
Backyard Joints Blog:
http://backyardjoints.blogspot.de/
Review & Interview:
http://www.youtube.com/watch?v=1twr8LxcDVM
<><><><><><><><><><><><><><><><><><>
LINE UP:
>>> LIVE / BEAT SET
– Fredfades & Ivan Ave (Oslo / NO)
(King Underground Records / Jakarta Records)
"For those that haven't heard of Fredfades, he's a hip hop producer/DJ originating from Norway. Fred's a well-travelled DJ who's played all over Europe & the US. He's been collecting vinyl from the early age of 14 and collects all kinds of music from, jazz, modern soul, boogie, mid 60's psych to late-eighties electronic dance music.
Fred is one-third of the crew; along with partners Deckdaddy & John Rice the three together make "The Oslo SP Ensemble". They've released a series of CDs called the "SP Shit Series" which have become cult-classics among the SP-1200 producers around the world. There are five volumes, all available for free download, which you can find online. The crew haven't released anything together for a while but Fred has continued to put out beat tapes on his own and has a lot of music in the stash.
Ivan Ave's real name is Eivind Øygarden. He's 25 and comes from Telemark, Norway. He's a DJ/MC and record collector who collects jazz, funk and soul and was part of the Norwegian hip hop group "The Afeeliated". Ivan teaches music, English & cooking in a junior high school in Norway. After making contact with Fredfades his main focus has been to build and make music together, merely for the love of it.
Fred and Ivan (who called himself Ivy League back then) recorded an EP together back in 2009 which they called 'The Brains' EP. They released it on Fred's own label, "Reppin' Outta Control". There were three producers doing the beats back then, Deckdaddy, John Rice & Fredfades. Fred first met Ivan Ave at a party through some graffiti dudes they both knew. He had already heard his music with Bishop (part of the group "The Afeeliated") and knew he was a skilled rapper. The two then followed up "The Brains" EP with a free digital EP called 'Pine Trees'. Ivan then focused on a new project with Bishop following up with a new volume of the mix tape "Saving The City". (They put out two mix tapes with the same name).
After that Ivan Ave moved to Oslo. The two started to hang out more and started recording new music. Fred's philosophy has always been to create "theme-less" music without trying to work to a concept/sound and to build up a collection of the songs to pick from. He's on the beats 24-7, his archive is HUGE so it's a tough pick. Some of the beats on the "Breathe" project are old and some are relatively new. Ivan was given carte blanche, writing to whatever he was feeling, then Fred took care of the mixing and tried to make a red line sound wise. The combination of these two is so fresh and brings a new, whilst still classic, sound to the game."
https://soundcloud.com/kingunderground/fredfades-ivan-ave-breathe-ep
https://soundcloud.com/fredfades
https://soundcloud.com/ivanave
>>> DJ's:
– BeatPete (Mellow Orange Music / Backyard Joints)
http://www.melloworange.com/beatpete/
http://www.youtube.com/user/BeatPeteMixtapes
– Marian Tone (Backyard Joints / Dooinit Music)
https://soundcloud.com/marian-tone
– Sotah
– HIFilLab (HitYaWitThat)
>>> Supported by HHV.DE
<><><><><><><><><><><><><><><><>
Panke e.V.
Gerichtstr. 23, Hof V.
13347, Wedding, Berlin
http://www.pankeculture.com/