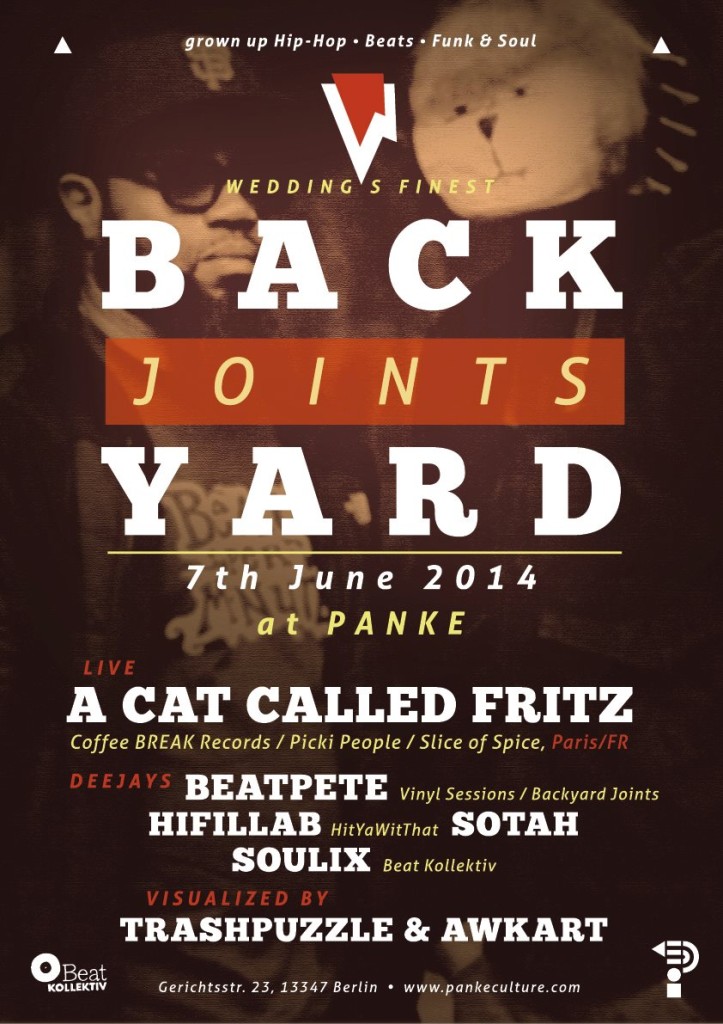 BACKYARD JOINTS Presents:
A Cat Called FRITZ (Paris / FR) @ Panke (Berlin)
Backyard Joints:
Dedicated to the dopest Joints in grown up Hip-Hop, Beats, Funk & Soul. Creating a soundscape that makes your head nod and your feet itch.
Marian Tone & BeatPete bringing you their highly contagious Dope on plastic.
Backyard Joints Blog:
http://backyardjoints.blogspot.de/
Review & Interview:
http://www.youtube.com/watch?v=1twr8LxcDVM
<><><><><><><><><><><><><><><><>
LINE UP:
– a Cat Called FRITZ (Paris / FR)
(Coffee BREAK Records / Slice Of Spice Records)
"It's been a couple of years that in the dark alleys of a big city, the shadow of a lonely cat called fritz walks anonymously in the crowd, and leaves his footprints in the indifference of the world around. Multifaceted artist, musician, beatmaker & graphic designer."
https://soundcloud.com/acatcalledfritz
http://acatcalledfritz.bandcamp.com/
– BeatPete (Backyard Joints / Vinyl Session)
http://www.youtube.com/user/BeatPeteMixtapes
https://soundcloud.com/beatpetemixtapes
– Sotah
https://soundcloud.com/sotah
– HiFilLab (HitYaWitThat)
https://soundcloud.com/hifillab
– Soulix (Beat Kollektiv)
https://soundcloud.com/soulix/soulix-soul-and-funk-mix-vol-1
VISUALS:
– Trashpuzzle Berlin & Awkart
http://www.youtube.com/watch?v=_c-yBiwGGpI
<><><><><><><><><><><><><><><><><><>