The event takes place on the 7th of December starting at 22:00.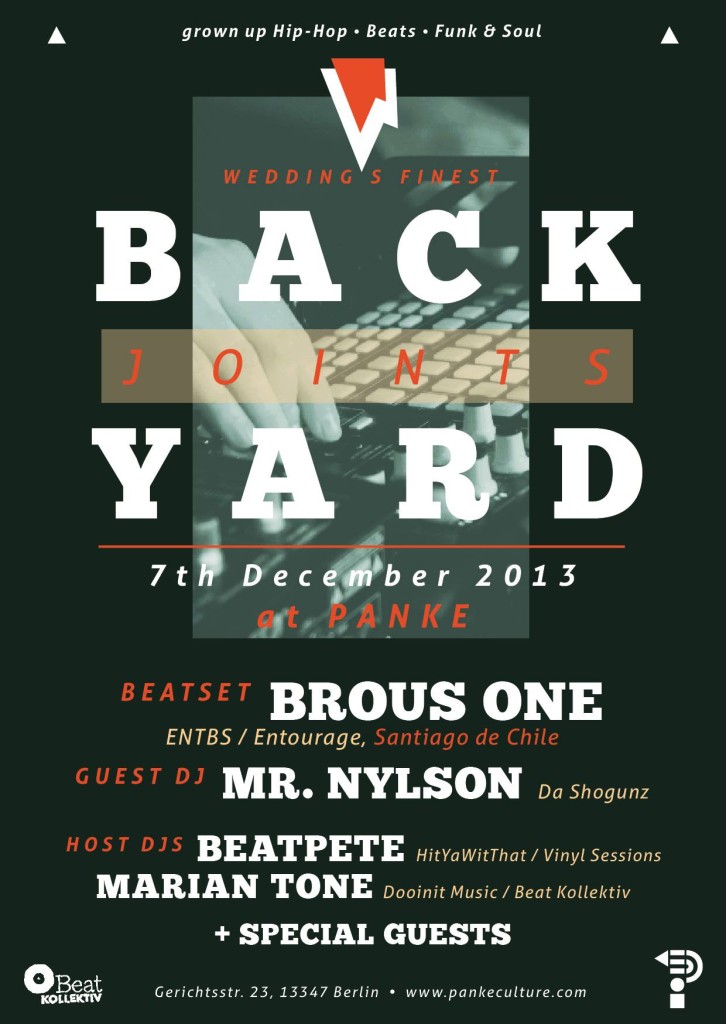 BACKYARD JOINTS
Dedicated to the dopest Joints in grown up Hip-Hop, Beats, Funk & Soul. Creating a soundscape that makes your head nod and your feet itch.
MT & BeatPete bringing you their highly contagious Dope on plastic.
<><><><><><><><><><><><><><><><>
LINE UP:
<> BEAT/MPC SET:
– Brous One (ENTBS / Entourage) (Santiago de Chile)
http://www.youtube.com/watch?v=7RhbaHsltYA
https://soundcloud.com/brous-one
<> GUEST DJ:
– Mr. Nylson (Da Shogunz) (Berlin)
http://www.youtube.com/watch?v=13hl4mlgIhs
https://www.facebook.com/MrNylson?fref=ts
<> DJ's / HOSTS:
– Marian Tone (Dooinit Music / Backyard Joints)
https://soundcloud.com/marian-tone
http://www.youtube.com/watch?v=_c-yBiwGGpI
– BeatPete (HitYaWitThat / Backyard Joints)
https://soundcloud.com/beatpetemixtapes
http://www.youtube.com/user/BeatPeteMixtapes
+ Guests
><><><><><><><><><><><><><><><
Panke e.V.
Gerichtstr. 23, Hof V.
13347, Wedding, Berlin
http://www.pankeculture.com/how-to-find-us/