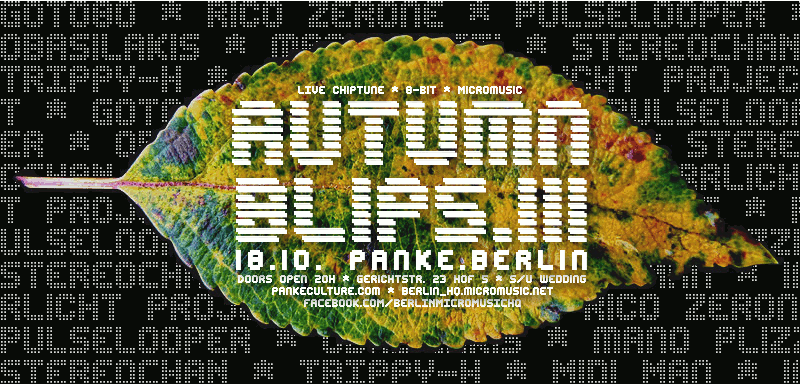 Berlin Micromusic HQ presents:
The wait is almost over: On October 18th you'll get your fix of
Chiptune, 8-Bit, and Micromusic. For the third time, the Autumn Blips
are going to take place in Panke, Berlin. As always, there's an extensive
and diverse line-up with top-notch international and local guests. Doors
open 8:30pm. We'll be asking for a small donation at the entrance.
Main Acts:
Goto80 (C64-Krach aus Göteborg)
Rico Zerone (cheesy XM-Funk aus Wien)
Pulselooper (düsterer Ambient-Gameboy-Techno aus Sao Paolo)
Local support:
STereochan (Happy Hardcore/Gameboy)
Trippy-H (Breakcore/Gameboy+synths)
Midi Man (Hardtek/Gameboy+synths)
irrlicht project (Prog-Rock/ZX Spectrum+TI-82)
obasilakis (Stoner Rock/NES+drums)
Mano Plizzi (Ambient/Gameboy)