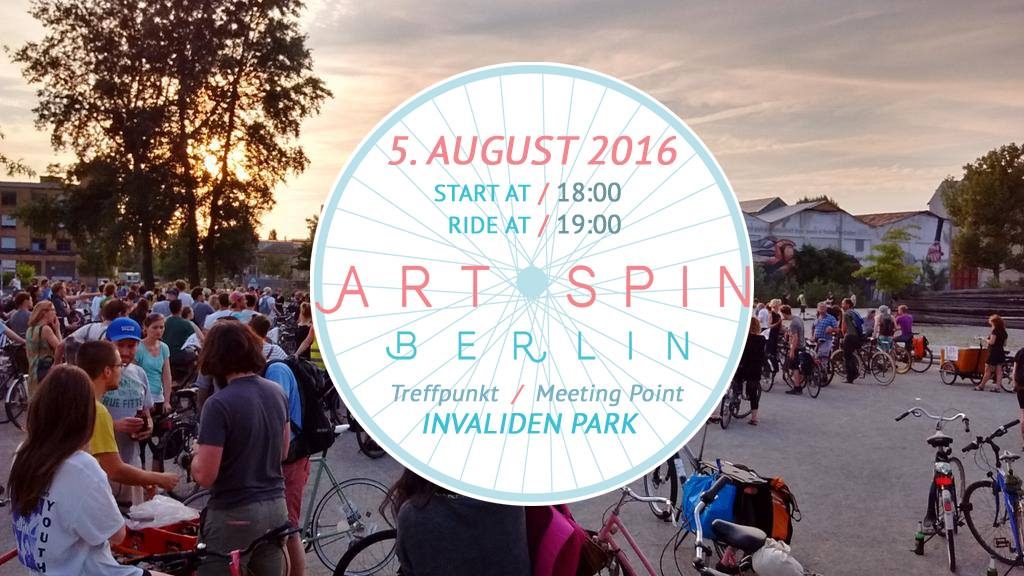 EN: Art Spin Berlin is a community based interactive bike and art tour of creative venues, art performances and site-specific installations throughout various Berlin neighborhoods. Art Spin Berlin is returning for its third tour on August 5th, 2016.
DE: Art Spin Berlin ist eine gemeinschaftliche interaktive Kunst- und Fahrrad-Tour zu kreativen Orten, Kunst-Performances und spezifischen Installationen in verschiedenen Berliner Kiezen. Art Spin Berlin kehrt zurück zu seiner zweiten Tour am 5. August, 2016.
Registration: http://artspinberlin2016.eventbrite.com/
MEET AT / 18:00 RIDE AT / 19:00
Featuring:
Andyvazul
Pere Ferrera Bertran
Hannsjana
Lisa Hoffmann
Nathalie Mba Bikoro
Zwoisy Mears-Clarke
Ben Mohai
ON/OFF
Majorie Potiron
Lena Skrabs
Natsumi Sugiyama
Sasha Tatic
Claire Waffel
Daphna Westerman
with
SAVVY Contemporary http://www.savvy-contemporary.com/
Panke Culture http://www.pankeculture.com/
Jugendverkehrschule Moabit https://www.facebook.com/jvsmoabit/
ZK/U http://www.zku-berlin.org/
Speisekino Moabit http://www.zku-berlin.org/satellite/speisekino-moabit-2016/
Mobilekino http://www.mobilekino.de/
Music: Klara Geist www.klarageist.com
More details coming soon!
Supported by
Bauhaus-Universität Weimar Kreativfonds
Quartiermeister