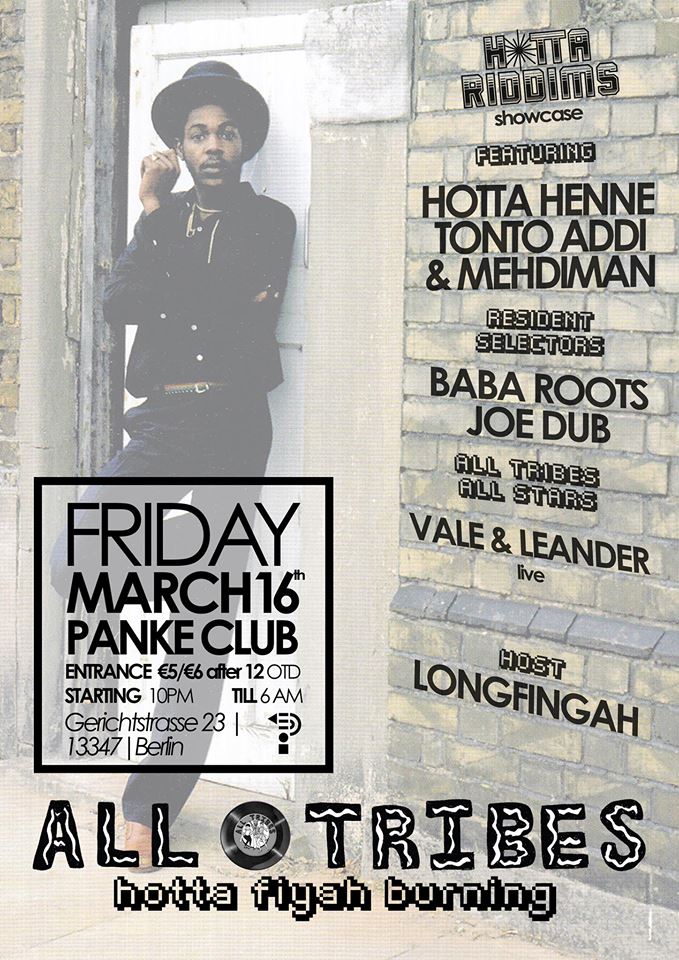 "HOTTA FIYAH BURNING"
All Tribes crew back at our Berlin home, Panke. For this one it's our pleasure to host a showcase from a label and stable making waves in the local and international reggae scene right now:
*HOTTA RIDDIMS SHOWCASE – HOTTA HENNE, TONTO ADDI & MEHDIMAN*
Coming straight outta Berlin, Hotta Henne and Tonto Addi formed the Hotta Riddims label in 2016 and they have quickly gained a great deal of respect from the scene, both locally and internationally. Specialising in rub-a-dub and digital reggae, their sound harks back to the mid to late 80s digi dancehall sound in Jamaica. As a platform for Henne's productions the label is now two releases deep, both pressed on 7″ vinyl, featuring killer digital riddims and top vocals from both Tonto Addi and Tenor Youthman.
The Hotta Riddim's posse also come in tough in the dance. With Henne's ruff and tuff selection, and Addi's hotta fiyah lyrical verse, the crew's presentation is well true to the 80's dancehall style. Originally from Paris, Addi's versatility and experience shows, having MC'd alongside the Upfull Posse and shared the stage with the likes of Jah Screechy, Murray Man and Mr Williamz. Recent and forthcoming live appearances have also seen the label perform alongside the likes of Mungo's Hifi and Studio One foundation artist Lone Ranger.
For this dance they'll also be joined by mehdiman, anew talent on the Berlin scene, with some recent well-received releases on the Boombardub label.
Lyrics and musical heat galore, gonna be in store, run come!
https://hottariddims.bandcamp.com/releases
https://www.youtube.com/watch?v=l71EBrgQN7A&feature=youtu.be
https://soundcloud.com/mehdiman
*LONGFINGAH*
It's a pleasure to welcome the one they call Longfingah to All Tribes 004. A versatile MC and singer, Longfingah can nice up the dance in a variety of styles, from raggamuffin to rootsman. He recently joined the All Tribes posse, when we hosted one of the rooms at the last Bass Odyssey and the vibes were top, a killer combination and one we're looking forward to recreating. Elsewhere you may have caught him playing live with the Sub Pressure Band, iLLBiLLY HiTEC with whom he has toured all over Europe, and with Hardy Digital the producer and DJ for GuerillJah Productions, through which Longfingah has released much of his music. His latest album featured the likes of Alldub and Dreadsquad on production and he has also worked with giants in the scene such as Mungo's Hifi, Dubmatix and Zion Train's Neil Perch. He has recently come back from Kenya where he was playing alongside Umoja Sound System. One of Germany's top reggae talents, and a pleasure to have him back inside an All Tribes dance.
https://www.youtube.com/playlist?list=PLLLDHXIwifxdjLcTVrvemt2A8Yc7GiG4H
https://soundcloud.com/longfingah
*ALL TRIBES ALL STARS*
Vale (Trumpet) and Leander (Sax)
If you don't know by now, Vale and Leander bring an incredible vibe to our dances, jamming together on versions in a fine style. As usual Vale has been busy sharing his talent across Europe and also in the studio featuring on the great new release from WuduB!? on Svaha Sound Label, alongside the lyrical talent of Micah Shemaiah and Jah Bami. Niceness!
https://svaha.bandcamp.com/album/jamstyle-ep
*BABA ROOTS AND JOE DUB*
All Tribes Resident Selectors playing all kinds of reggae music inna soundsystem style and fashion, old and new.
In case you never know, All Tribes is a foundation, roots rock reggae and dubwise medley brought to you by resident selectors Patch, Baba Roots and Joe Dub (Bristol Reggae Society & Teachings in Dub, UK) featuring live musicians and singers and guest selectors passing through and jammin' pon di riddim.