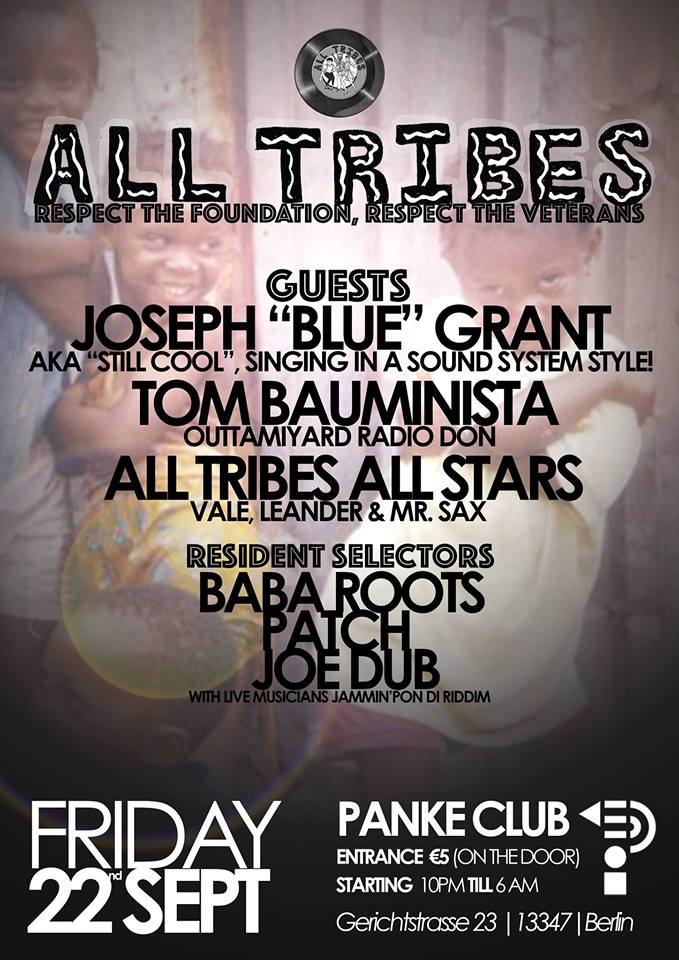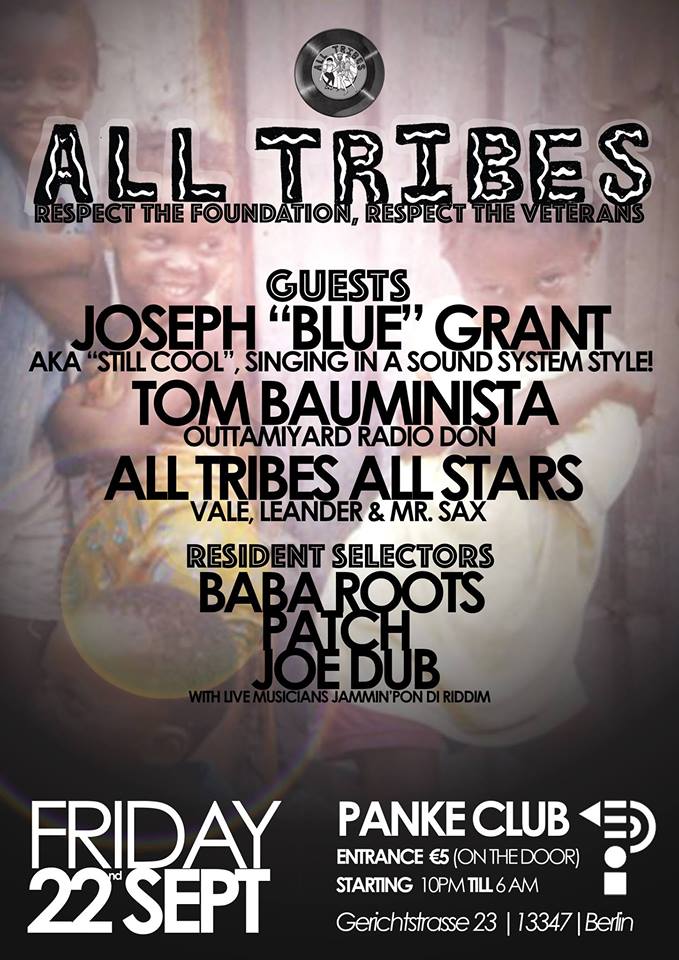 "RESPECT THE FOUNDATION, RESPECT THE VETERANS"
All Tribes family in session back at our Iriginal yard, Panke Culture for another session of roots and culture reggae music with an extra special lineup:
* JOSEPH (BLUE) GRANT* (Still Cool)
singing and toasting in a soundsystem style!
We're very excited to be joined by a true legend of reggae music. Joseph Grant started his career in Jamaica with his band, Still Cool, in the early 70's. The band quickly gained popularity with anthems like 'To be poor is a crime'. After sharing stages with the likes of Burning Spear, Bob Marley and Dennis Brown, he moved to Europe and continued the musical works, releasing 4 albums and a string of 7″ singles as well as touring with his band. Although usually seen his live band at festivals such as Reggae Sundance, Rototom and Reggae Geel, for this one we're bringing him to the intimate setting of Panke, where he'll be jamming with us in a sound system style! Joseph "Blue" Grant is truly a ruler of good judgement righteously expressed, a defender and an advocate of reggae music.
*TOM BAUMINISTA* (OuttaMiYard Radio)
When you talk about Berlin reggae veterans, one man comes to mind and we had to get him down to come and share his selection! Tom Bauminista has been selecting since the early 90's, originally with the crew 'Dubsquad'. Playing roots rock reggae as well as UK Dub, he was instrumental in bringing the music to new ears in Berlin and Germany as a whole. Apart from killer live sets, he also hosts the weekly Dub Conference radio show on OuttaMiYard radio, playing music from his deep collection as well as promoting modern releases!
*ALL TRIBES ALL STARS*
Vale, Leander and Mr Sax jammin alongside on Trumpet, Tenor and Alto Sax
Last time saw Vale and Leander pass the riddim back and forth alongsideJT Kibir La Amlak, playing exclusive Kibir La Amlak material. After this, and various other spine tingling moments, it's a pleasure to have our horns section back in full effect. For this one, we also have Mr. Saxjoining us on alto sax to bring more live pressure!
*BABA ROOTS, PATCH AND JOE DUB*
All Tribes Resident Selectors playing all kinds of reggae music inna soundsystem style and fashion
In case you never know, All Tribes is a foundation, roots rock reggae and dubwise medley brought to you by resident selectors Patch, Baba Roots and Joe Dub (Bristol Reggae Society & Teachings in Dub, UK) featuring live musicians and singers and guest selectors passing through and jammin' pon di riddim.