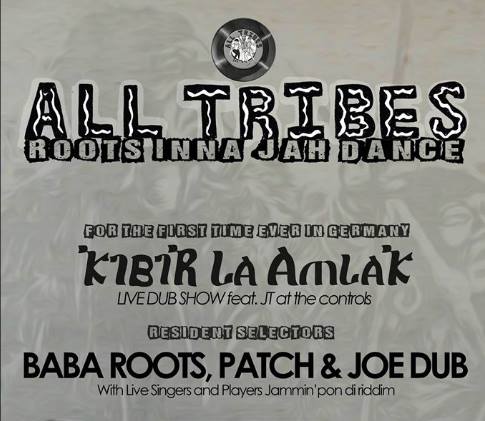 Yes Massive!
We are very excited to announce the second edition of All Tribes…
*ALL TRIBES (002)*
"ROOTS INNA JAH DANCE"
Carrying on in the tradition of bringing top drawer reggae music to the people, we come again for a night of roots and culture, dubwise, and all things soundsystem, in our new home, Panke Culture!
FEATURING VERY SPECIAL GUEST:

*KIBIR LA AMLAK (UK) LIVE DUB SHOW*
w/ JT live and direct in the mix! All Tribes exclusive, first live KLA dub show in Germany.
Roots, Dub music and soundsystem are something that very much run in the veins of our very special guest for ALL TRIBES 002. Selector, operator, box builder, producer and all-round rootsman extraordinaire JT, a long-time friend and associate of the Bristol Reggae Society and All Tribes family arrives with his live dub show for the very first time in Germany, fresh of the back of his first KLA Dub Box Live Tour in the US and Mexico. With recent studio collaborations with reggae music greats old and new, from Dennis Bovell to Ashanti Selah, expect everything "from vintage revival roots to the freshest dub plate selections from the KLA studio; overlaid with a myriad of analogue reverbs, delays, sirens and filters over dubwise versions"
JT promises to deliver his exciting live show true to the spirit of an All Tribes session.
ALONGSIDE…
RESIDENT SELECTORS:
*BABA ROOTS, PATCH AND JOE DUB*
Hailing outta Bristol, UK, but with one foot firmly in Berlin, roots and reggae soldiers of the heartical order, bringing vinyl pressure, soundsytem style, in the tradition of their former affiliations, Teachings In Dub, Bristol Reggae Society and many more!
LIVE SINGERS AND PLAYERS FROM THE ALL TRIBES RIDDIM SECTION WILL ALSO BE PASSING THROUGH TO JAM PON DI RIDDIM
More info soon come!
*PANKE CLUB* Gerichtstrasse 23, 13347, Berlin.
S and U Bahn station: Wedding (reachable on the S Ring and U6 lines).
http://www.pankeculture.com/
*ONE LOVE, All Tribes family*