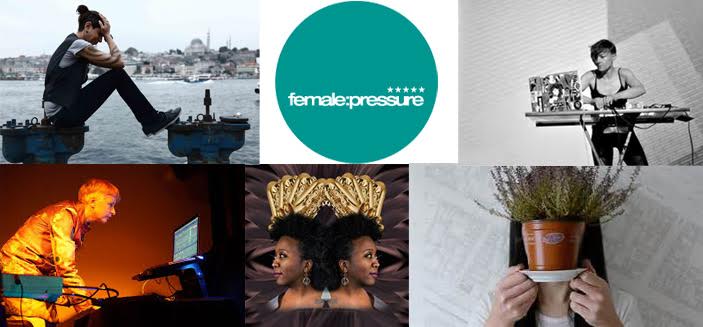 In January we have a focus on female artists, with a special view on various activities of female:pressure, an international network of female artists in the fields of electronic music and digital arts, with a special focus on what is going on in Berlin.
First we will have a panel discussion with members from female:pressure, including DJ, VJ and visual artist Aiko Okamoto (aka Mo), sound artist and composer Lenka Kocisova (aka Akkamiau), DJ and sounddesignerin İpek İpekçioğlu (aka DJ Ipek), producer, DJ, live performer and film-maker Sky Deep, and musician, composer and thereminist Maya C. Sternel (aka Donna Maya).
Subsequently, İpek İpekçioğlu provides an insight view in her workflow and setup of producing and performing music and gives us a live demonstration of her music!
—
Our guests are:
AIKO OKAMOTO (Mo)
Aiko Okamoto is DJ (trainee), VJ and visual artist, working between club culture and visual arts. Diploma at the Academy of Fine Arts Munich (Prof. Klaus vom Bruch, Media Art). As a member of female:pressure, she organizes Perspectives Festival Berlin and monthly meeting for female* artists, MEETUP in Berlin.
https://vimeo.com/okamotoaiko
https://www.mixcloud.com/Mo_Chan/
İPEK IPEKCIOGLU
The Berlin-Istanbul-based turkish-german dj/producer/compiler İpek İpekçioğlu influenced with her eclectic music and characteristic mixes the multilayered Berlin club scene. Her album, a compilation named "Beyond İstanbul – Underground Grooves of Turkey", was awarded by The German Record Critics. They called her the Master of Ceremony of the transcultural understanding who has set important milestones. Apart from djaying, remixing and compiling CD's İpek has been the club curator of the InTransit Festival Berlin, she organized the Orient Bazaar stage at the Carnival of Cultures as well as organized the turkish Alternativ-Electro-Night at Popkomm and her own stage during the Berlin-Kreuzberg 1. May event MyFest and works as music director in theaters and Theaterfestival.
http://www.djipek.com/
LENKA KOCISOVA (Akkamiau) 
Audiovisual artist, experimental musician, performer, concept writer and art event manager and coordinator, resident in Berlin. In 2014, she received her PhD in Audiovisual Performance from FaVU Brno University of Technology (CZ), where she also studied Performance Art under Professor Tomas Ruller, pedagogy, multimedia and arts management. She has been a member and coordinator of female: pressure (festival Perspectives Berlin, DE), new media festival Multiplace, Czech it!, Anymade Studio, and Fauchmiau. She has performed experimental audiovisual shows since 2006 as Akkamiau, since 2012 she creates sound compositions for StratoFyzika, inspired by metaphysics. Recently launched an experimental techno project hiT͟Hərˈto͞o, with releases on Decadence recordings, SPRINGSTOFF and Establishment records.
akkamiau.weebly.com
SKY DEEP
Sky Deep is a Berlin based music producer, DJ, musician, award-winning filmmaker and activist — born in the USA. Now living in Berlin, she has lived half her life in NYC and Los Angeles. She has played live throughout the US and Europe. Additionally, her performances and tracks have been featured on VH1, NBC and UPN. Sky Deep's current production and performances are continually being featured in German and international media while she also does a lot of teaching artist work — such as leading studio sessions at Ableton Loop Summit in 2016 and performance at BIMM. Sky Deep is the founder of the electronic label Reveller Records. Also she created and curated the Reclaim the Beats Festival in Berlin – which advocates for the visibility of people of color and queer people in the music industry.
http://www.revellerrecords.com/artist/sky-deep/
http://www.ReclaimTheBeats.com/
MAYA CONSUELO STERNEL
(Donna Maya)
Donna Maya is a DJ, theremin player and producer of electronic music and the first female certified Ableton trainer. Donna Maya also composed turntable concerts for philharmonic orchestra and DJ as well as contributions for soundtracks like the film "kurz und schmerzlos" by Fatih Akim. Her creative style led to invitations to perform at Sonar in Barcelona, Transmediale in Berlin and the renowned "Pinakothek der Moderne" in Munich. She is an active member of female:pressure from the very beginning and organized several festivals in the contexts of the network. Donna Maya regularly organizes workshops especially for women (e.g. Remix Regendered, female:pressure music days) and is part of the all-female producers collective "minutektiv".
http://www.donnamaya.de/