The event takes place on the 9th of November starting at 20:00.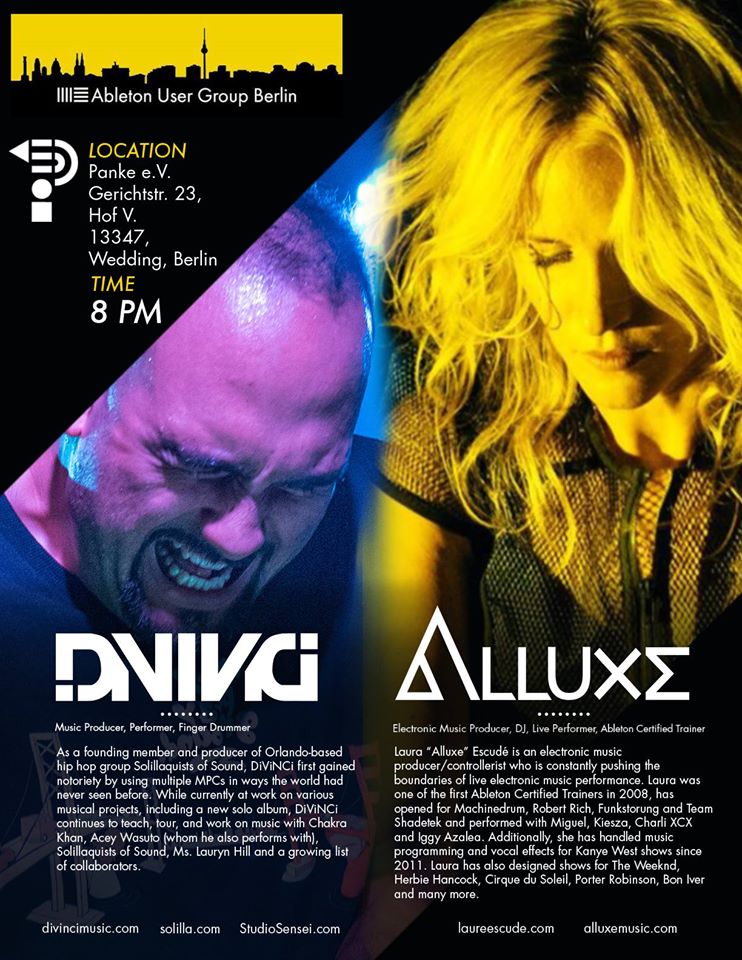 Ableton User Group Berlin meeting: Laura "Alluxe" Escudé and DiViNCi will both do a presentation of their work (and provide a look into their setups) and then will each give a performance afterwards!
As a founding member and producer of Orlando-based hip hop group Solillaquists of Sound, DiViNCi first gained notoriety by using multiple MPCs in ways the world had never seen before. While currently at work on various musical projects, including a new solo album, DiViNCi continues to teach, tour, and work on music with Chakra Khan, Acey Wasuto (whom he also performs with), Solillaquists of Sound, Ms. Lauryn Hill and a growing list of collaborators.
http://divincimusic.com/
http://solilla.com/
http://StudioSensei.com/
—
Laura "Alluxe" Escudé is an electronic music producer/controllerist who is constantly pushing the boundaries of live electronic music performance. Laura was one of the first Ableton Certified Trainers in 2008, has opened for Machinedrum, Robert Rich, Funkstorung and Team Shadetek and performed with Miguel, Kiesza, Charli XCX and Iggy Azalea. Additionally, she has handled music programming and vocal effects for Kanye West shows since 2011. Laura has also designed shows for The Weeknd, Herbie Hancock, Cirque du Soleil, Porter Robinson, Bon Iver and many more.
http://www.lauraescude.com/
http://www.alluxemusic/