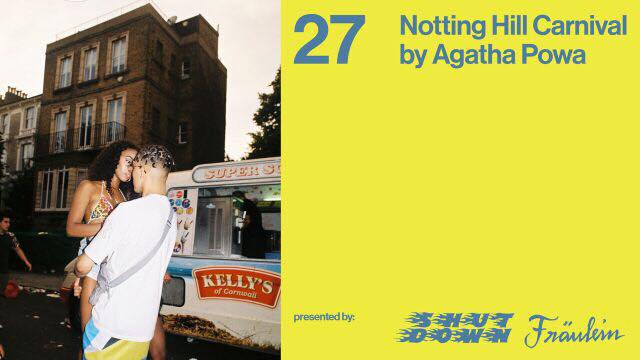 Come and celebrate the debut exhibition of photographer AGATHA POWA and poet Abondance Matanda with us.
Live
Acoustic Set by Charlotte Dos Santos (Oslo / Berlin)
Leo Luchini (London / Berlin)
Dj's
Bambii (Toronto)
Chloëdeess (London)
Champagne Funk B2B W/ Jon Phonics (London)
Conceptualization
AGATHA POWA
Visuals
AGATHA POWA
Soundtrack
Blame Blame feat. OfficialKoder (London)
Food
Barb's Soulfood
Supported by Fräulein Magazine
Free entry.
There is smoke blowing from a carribbean takeaway into the crowded, sun-drenched street, kisses in front of soft ice cream trucks and "Bollocks to Brexit" stickers poking out of trouser pockets – Agatha Powa's photographies of Notting Hill Carnival capture moments and faces with a vision full of love for the world that surrounds us. As part of the SHUTDOWN Fashion Week and under the slogan "No Borders, Just Bass", the Kiev-born multi- disciplinary artist – who trained in London, New York, Prague and Berlin – will finally host her very first photography exhibition. In her mission to celebrate the beauty, vulnerability and authenticity of human connections beyond any limits, she will be joined by London writer Abondance Matanda who is currently onto on her third compedium of poetry. Providing a live performance and short poems written to every single exhibited image, Matanda will give insight into her artistic work championing both underground activism and a DIY mentality at the forefront of London's self-publishing movement. Inspired by Grace Nichols, Alice Walker and other powerful black women, Matanda focusses on examining London's socio-political landscape as well as her experiences as a black working class female. Together with music producer Blam Blam, Agatha and Abondance merged their aesthetics and collaborated on a short film which will be shown at the exhibition as well.