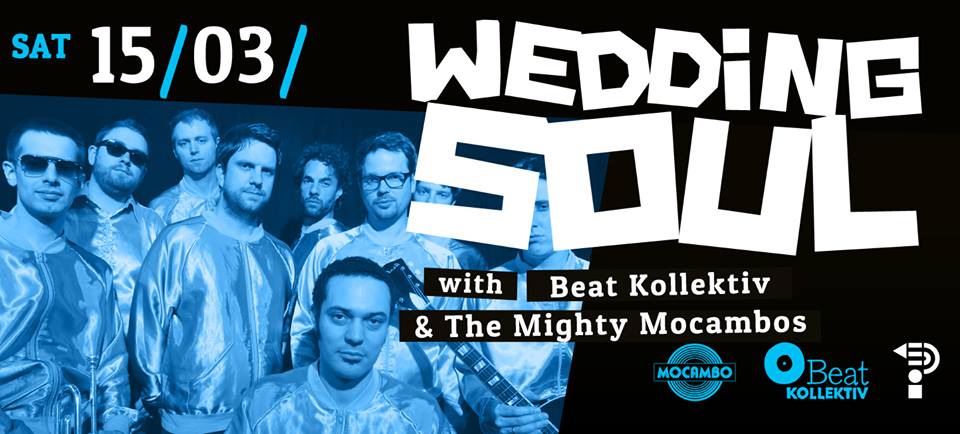 Hej everybody. We're back after our amazing birthday party and this time we bring you again a super guest on stage.
Join us this time for a superb party including a superb concert with THE MIGHTY MOCAMBOS!!
What started as a jam session project founded by four school friends has turned into one of the world's most respected deep funk bands. Completed with a horn section and featured singers, the group had gained a reputation for their extatic live concerts in Hamburg, but it was the launch of the Mocambo label and the creation of their unique raw old-school sound that caught the attention of many funk enthusiasts around the globe. The Mighty Mocambos deliver heavy funk with blazing horns, soulful guitars, driving drums and basslines, combined with an extra bit of quirkyness.
Apart from releasing themselves and other artists on their highly regarded imprint Mocambo Records, they have released 45s on various other labels from all over the world under almost a dozen pseudonyms. Grammy-nominated producer legend Kenny Dope (Masters at Work, Bucketheads) found the group's interpretation of the Furious Five classic "The Message", released on an obscure phantasy label without proper distribution, remixed it and re-released it on his own label, Kay Dee Records.
Their first single with London-based funk singer Gizelle Smith, "Working Woman", became an overnight smash and a prime-time club favourite of funk & soul DJs worldwide. The following album "This Is Gizelle Smith & the Mighty Mocambos" received rave reviews, got lots of airplay, and sold a bunch of physical copies. Its success led to an extensive tour throughout Europe with club dates from Marseille to Oslo and live radio appearances at respected FMs such as the BBC and Radio Nova, and massive festivals such as the Printemps de Bourges in France.
Their latest album THE FUTURE IS HERE is a manifest of their unmistakable style, instrumental and with vocals guests such as hiphop pioneer Afrika Bambaataa, Oscar-decorated producer Afrika Islam (aka Charlie Funk), King Kamonzi, German rare groove queen Su Kramer. Its success gave way and for another Europe tour, this time with young French singer Caroline Lacaze as a featured singer.
Subsequently, the Mighty Mocambos (under their new moniker "Mocambo Electric Sound Orchestra") wrote and produced Lacaze's debut album "En Route", where their adapted their sound to deliver a stunning mix of French Beat, Soul & Psychedelic Rock.
When not busy producing records for one of their many incarnations and collabos, the band remains steadily on tour through all civilized parts of the continent and beyond. Whoever witnessed a concert will tell you about the musicality, passion, energy, humour and joy that the band loves to bring to the people.
www.mightymocambos.com www.facebook.com/themightymocamboswww.twitter.com/mightymocambos www.soundcould.com/mocambo
—
At WEDDING SOUL we play RnB, Raw Funk, Breakbeats, HipHop, Soul, sometimes even Discobeats, all together a merry-go-round of soulfull music we love!
—