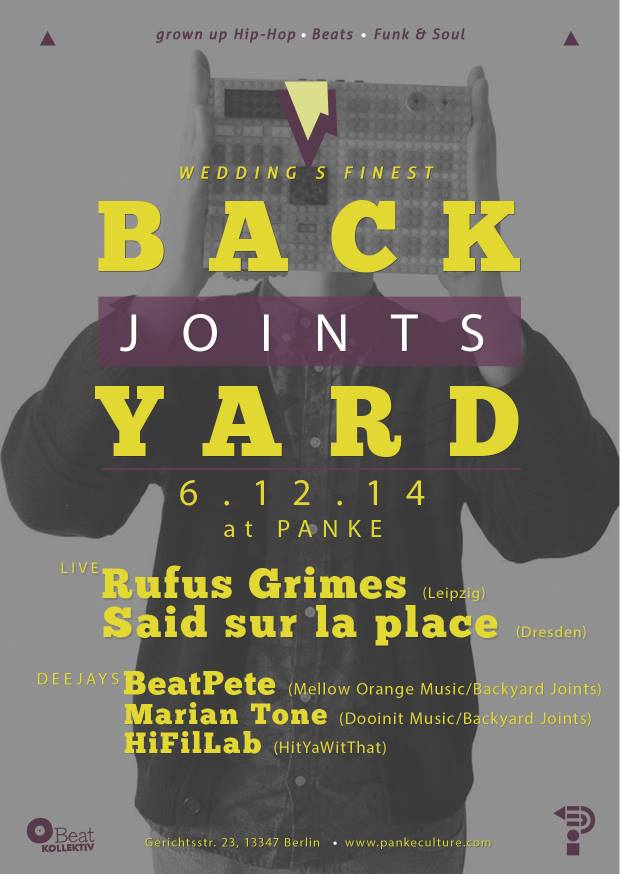 BACKYARD JOINTS Presents:
Rufus Grimes & Said sur la place @ Panke (Berlin)
Backyard Joints:
Dedicated to the dopest Joints in grown up Hip-Hop,
Beats, Funk & Soul. Creating a soundscape that
makes your head nod and your feet itch.
Marian Tone & BeatPete bringing you their highly
contagious Dope on plastic.
Backyard Joints Blog:
http://backyardjoints.blogspot.de/
Review & Interview:
http://www.youtube.com/watch?v=1twr8LxcDVM
<><><><><><><><><><><><><><><><>
>>> LINE UP:
>> MPC BEAT SET & DJ SET
> Rufus Grimes (Leipzig)
Rufus Grimes aka. Remark is a beatmaker and
instrumentalist from Karlsruhe living in Leipzig,
Germany.
The topic is instrumental music & beats.
Whereas REMARK is more into electronic sounds and
wavy chillout vibes, RUFUS GRIMES is a crate digger
and deeply rooted into sampling culture.
REMARK creates wet adventurespheres
RUFUS GRIMES flips dry shortstories.
https://soundcloud.com/remarkakarufusgrimes
> Said sur la place (Dresden)
Hailing from Hecht Stuy Dresden, Said sur la place
is a prolific MPC affisionado with the right feel and
temper for finding that musical – diamond in the rough.
Be sure to check him out!
https://www.facebook.com/saidsurlaplace
https://saidsurlaplace.bandcamp.com/
https://soundcloud.com/saidbeat
>>> DJ's:
> BeatPete (Mellow Orange Music / Backyard Joints)
http://www.melloworange.com/beatpete/
http://www.youtube.com/user/BeatPeteMixtapes
https://soundcloud.com/beatpetemixtapes
> Marian Tone (Dooinit Music / Backyard Joints)
http://dooinitmusic.com/artists/marian-tone/
https://soundcloud.com/marian-tone
> HiFilLab (HitYaWitThat)
http://soundcloud.com/hifillab
<><><><><><><><><><><><><><><><><><>
Panke e.V.
Gerichtstr. 23, Hof V.
13347, Wedding, Berlin
http://www.pankeculture.com/how-to-find-us/
<><><><><><><><><><><><><><><><><><>
Supported by HHV.DE