The event takes place on the 30th of March starting at 22:30 pm.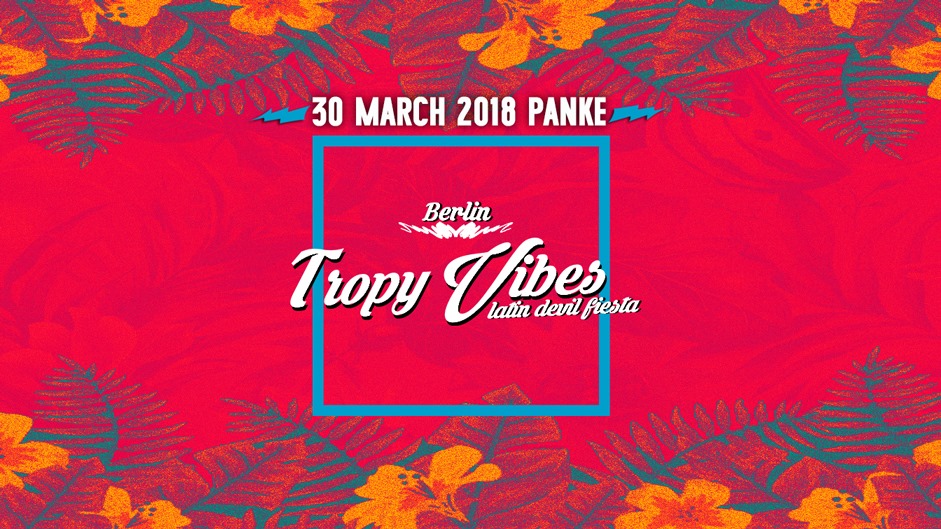 Tropy Vibes is back with spring feelings!! Latin sound culture in Berlin with the sounds of cumbia, latin beats, electro cumbia, tropikal bass and mash-ups.
We´re leaving the grey and cold days behind and see you at the dance at Panke with a colourful line up:
▶ CiGARRA // Tropical Twista Records // Brazil
▶ EDNA MARTiNEZ // Kreyol ° Prende la Vela // Berlin-Colombia
▶ SELEKTOR BONY // Tropy Vibes // Berlin-Mexico
▶ DR. CALAVERA // Sounds of Trópico // Hamburg-Mexico
Tropy Vibes está de regreso en Panke con ondas primaverales! Dejamos atrás el cielo gris y nos vemos en el baile dándole color a la pista! Sonidos trópicales con mucho sabor!
◈◈◈◈◈◈◈◈◈◈◈◈◈◈◈◈◈◈◈◈◈◈◈◈◈◈◈◈◈◈◈
FRiDAY 30th of MARCH · ViERNES 30 de MARZO 2018 · 22:30h PANKE. GERiCHTSTRASSE 23 BERLiN, WEDDiNG
http://www.pankeculture.com/how-to-find-us
INFO: https://www.facebook.com/TropyVibesBerlin/
◈◈◈◈◈◈◈◈◈◈◈◈◈◈◈◈◈◈◈◈◈◈◈◈◈◈◈◈◈◈◈
◈ CiGARRA – The DJ, producer and label manager Agatha Barbosa a.k.a Cigarra grew up in the dense underground scene of São Paulo and besides making psychedelic organic music she also released the compilation Hystereofônica on Tropical Twista Records, a collection of female producers in South America.
Rhythms from Brazil and from many distant parts of the world join in a contagious set of hypnotic and seductive frequencies, ranging from global bass to downtempo. All her potentialities and her focus on female expression inspire a legion of women singing singles being at the same time an important reference for the current underground Latin American electronic scene.
◈ EDNA MARTÍNEZ, resident in Berlin for the last decade, grew up in Cartagena de Indias, in the Colombian Caribbean which influenced her musical selection: African organic rhythms, tropical sounds, Champeta, Cumbia, Latin and Arabic folklore.
◈ SELEKTOR BONY, originally from Mexico and resident in Berlin since 2014 is the founder of the collectives Tropy Vibes and Rebel Vibes with a regular party at Panke – he offers an explosive set of cumbia, electrocumbia, cumbia dub and latin beats.
◈ DR. CALAVERA, visual designer and DJ from Hamburg with Mexican roots will play different styles of cumbia, a session full of spring vibes.